Black History Month
The national celebration of Black History Month is a time to honor the contributions of African Americans to our nation's history. This year, the City of Thomasville is once again working with community partners to celebrate our local history. The 2019 celebration will include recognition of locations of importance to our own local history with "The Power of Place," an online trivia contest, a Black History Month parade and an evening of community entertainment capped off by a screening of the movie, "42" which tells the story of legendary baseball player and Cairo native Jackie Robinson.
Click here to read more about Thomasville's Black History Month Celebrations.
1st Annual Black History Month Parade
Saturday, February 23, 2019 at 3:30pm in Downtown Thomasville
Mrs. Juanita Varner and her daughters Wilnita V. Fortson and Sandra V. Dunbar
This year, we're excited to add Thomasville's first Black History Month Parade to be held on Saturday, February 23rd at 3:30pm. The parade will be held in Downtown Thomasville. We encourage you to come enjoy the parade!
We are honored to announce that our first Black History Month Parade Grand Marshal is Mrs. Juanita Lorina Lee "Nita" Varner. Mrs.Varner is a beloved retired school and piano teacher teacher in our community and the wife of the late William James Varner, the last full time principal of Douglass High School. Mrs. Varner will be 105 years old on March 20, 2019 and she's a testament to the influence one person can have on their whole community. Click here to read more about Mrs. Varner.
Black History Month Program and Movie Night
February 23, 2019 from 4:00-8:00pm in the Municipal Auditorium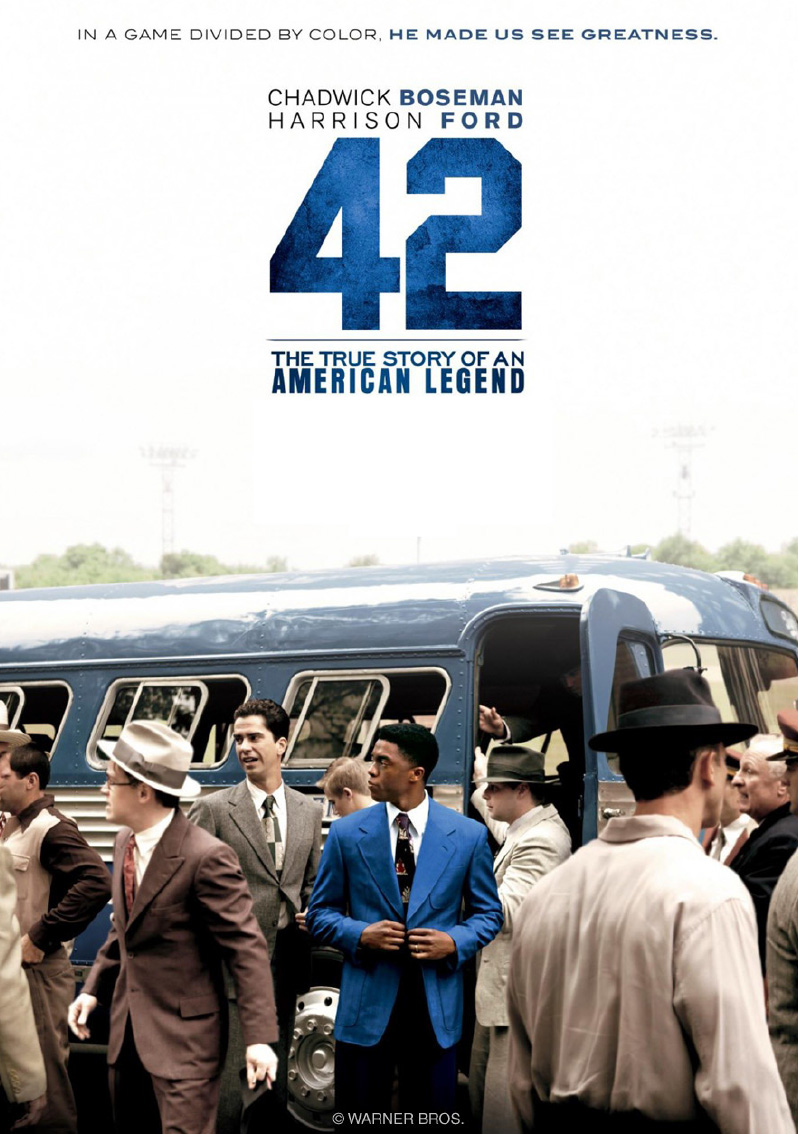 Following the Black History Month Parade, the community celebration will continue with local entertainment showcased at the Municipal Auditorium. The lineup of entertainment includes local singers, dancers and speakers. Check back soon for the entertainment schedule. The evening will culminate in a special movie night screening of "42," which tells the story of legendary Brooklyn Dodgers baseball player and Cairo native Jackie Robinson and how he demonstrated true courage and let his undeniable talent silence his critics. All events are free of charge and open to the community.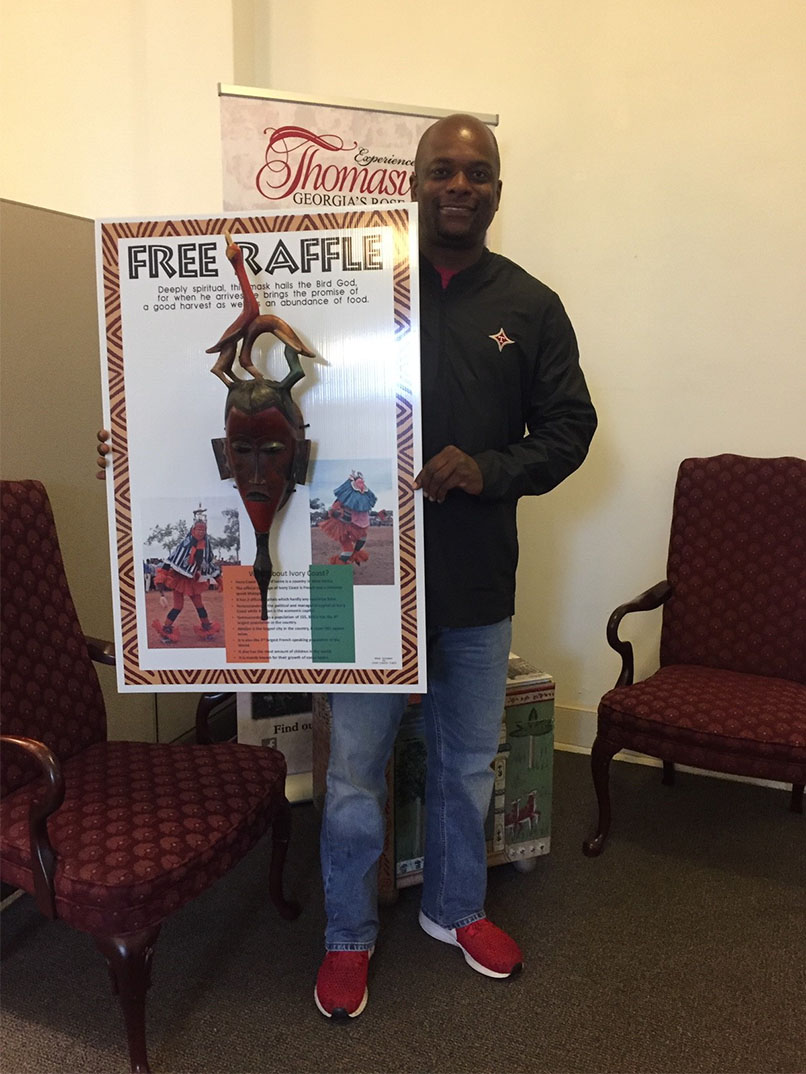 Congratulations to Bryan Howell, winner of the Free Raffle at the Black History Month Celebration and Movie Night. He won a beautiful wooden African Mask donated by Linda Lawson Signs.
The Power of Place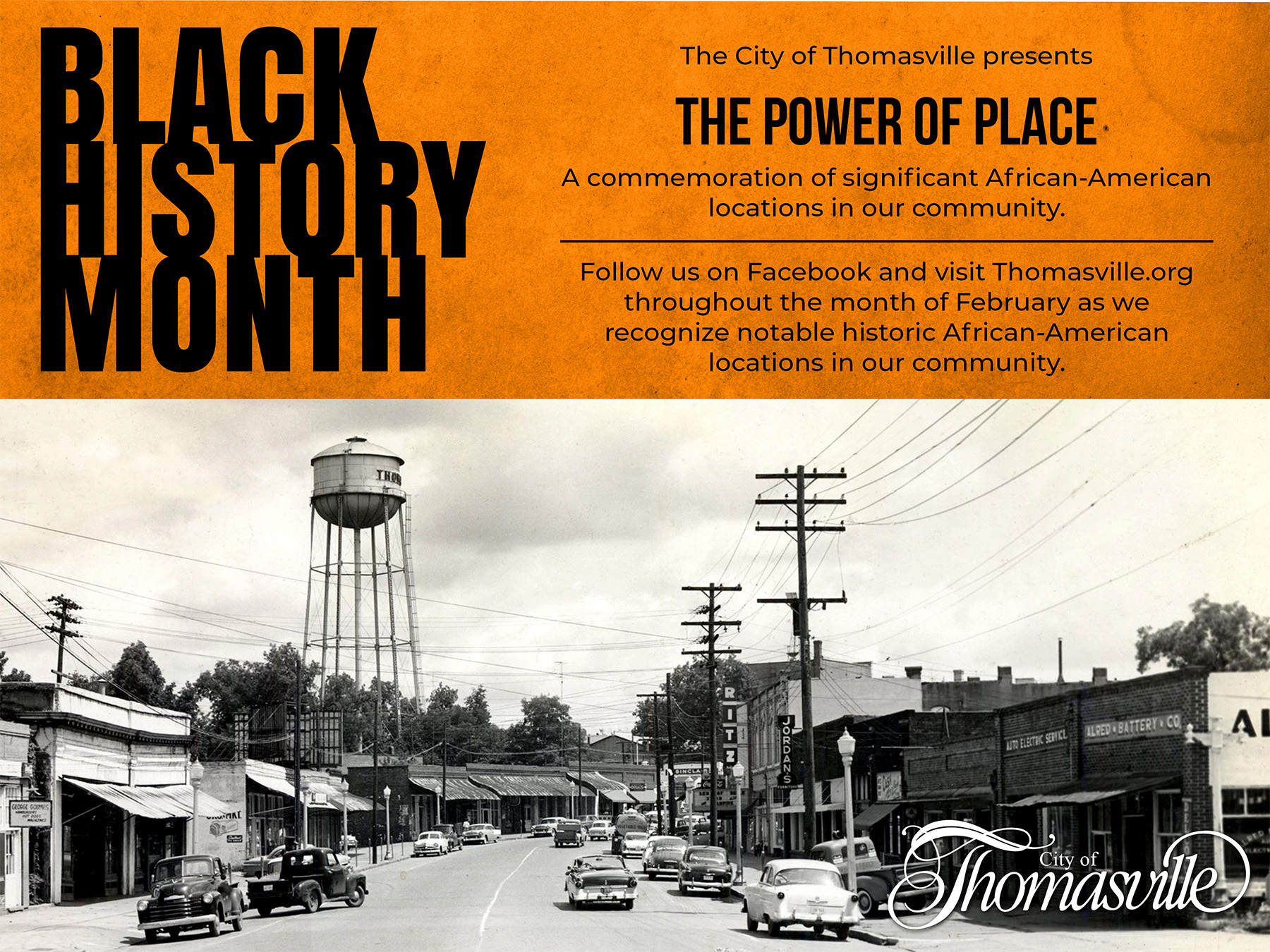 Each Monday in February, the City of Thomasville will focus on a location within our community that is important to our local African American history. The locations will be revealed on our website and on our Facebook page. Check back throughout the month to read about these special locations, familiar to many of us, with a look at why each is important to our local culture.
Week 1 – The Bottom and the Ritz Theatre
We are excited to kick off our Black History Month celebration of the places in our community that are important and significant to our local African American history. Last year, the Thomasville City Council formally recognized the 200-300 blocks of West Jackson Street as The Bottom District, an area that has deep roots in our community's local African American History.
The Bottom District
(200 – 300 block of West Jackson Street) developed as an African-American and Jewish business district in the latter part of the 19th century. Always a high-traffic area due to the location of the train depot on West Jackson Street, the development of industry in the vicinity contributed to the quickened pace of The Bottom. By the late 1920s, the area was almost completely developed with small restaurants, retail shops, grocery stores, doctor's offices and pharmacies. The presence of German-Jewish retail shop owners greatly increased after 1932, along with some Greek-owned restaurants and retail stores. Before the Civil Rights Act of 1965, which outlawed segregation, The Bottom was a hub of African-American commerce as well as social and political activity.
The Ritz Theatre
The Ritz Theatre was a segregated movie house operated by Interstate Enterprises, owned by the Nat Williams family, which managed several theaters in the region such as The Rose, The Mode, The HiWa Drive-In and others. The Ritz served African-American patrons during the era of state-enforced segregation from its opening in 1935 until the passage of the Civil Rights Act of 1965. After this, The Ritz continued to operate as a movie theater for all communities until its closure in late 1976. Like all Interstate theaters, the Ritz was given a name containing only four letters. A project to restore The Ritz was underway in the 1980's until a decision was made to have it destroyed due to the cost of the restoration. Sadly, The Ritz was demolished in the mid-1980. In 2016, The City of Thomasville began a revitalization effort to bring The Bottom back to life. In spring of 2017, The Ritz Amphitheater and Park were built on Stevens Street, named in honor of the original Ritz Theater. Later this year, the West Jackson Streetscape project will begin. To pay homage to the importance of the area in Thomasville's history, plaques will be placed in the sidewalk in front of some of the longest lasting and best-remembered businesses in The Bottom. The project is expected to be complete later this year.
Historical information and photos provided by the Thomasville History Center and the Ed Kelly Collection.
Week 2 – The Imperial Hotel
We are excited to continue our celebration of The "Power of Place," a Black History celebration honoring the significant locations in our community. This week, we take a look at the Imperial Hotel, which was built in 1949 by African American brothers George Edward Lewis, Charles Joseph Lewis, Jr., Marshall Merritt and identical twins Alfred and Alvon Lewis. The hotel was operated until 1969 by Harvey and Dorothy Lewis Thompson. The Imperial was Thomasville's only hotel where African American travelers could stay prior to desegregated accommodations. The Imperial Hotel was featured in The Green Book, a guide for African-American tourists intended to help motorist avoid social obstacles during segregation. The book also listed hotels, restaurants and shops that would reliably serve African Americans during the Jim Crow era.
During the 1940s, '50s and 60s, the Imperial Hotel hosted some of the most famous African American entertainers making their way across the United States to play on the "Chitlin Circuit." The "Chitlin Circuit" is the collective name given to performance venues throughout the eastern, southern and upper midwest areas of the United States that were safe and acceptable for African American musicians, comedians and other entertainers to perform before desegregation. Famous musicians may have stayed at the hotel while on tour.
Over the last several decades, the Imperial Hotel has fallen into a severe state of decline. In 2018, through a partnership with the Jack Hadley Black History Museum, Thomasville Landmarks and the Williams Family Foundation of Georgia, an initiative was launched to save this important African American landmark. If you would like to contribute to "Save The Imperial Hotel" visit the Jack Hadley Black History Museum's website www.jackhadleyblackhistorymuseum.com or Thomasville Landmarks website www.thomasvillelandmarks.org.
Historical Information and photos provided by the Jack Hadley Black History Museum.
Week 3 – Local Churches
Churches have always played an important role in Thomasville's African American history. In addition to filling a spiritual need, they also were (and continue to be) a place of cultural and social importance. This week, we are going to highlight several local churches of historical importance to Thomasville.
Bethany Congregational Church
1122 Lester Street - Bethany Congregational Church is a United Church of Christ house of worship. It was founded on February 1, 1891, by the American Missionary Association as the chapel and worship center of the Allen Normal and Industrial School, an educational institution for African American students. The school operated from 1885 to 1933, and the church remained after the school property was razed in 1935 to make room for a housing project. Civil rights leader Andrew Young accepted the pastorate of Bethany Congregational Church in 1955. In 1985, the church was added to the National Register of Historical Places.
First Missionary Baptist Church
110 E. Calhoun Street –Originally known as the First African Baptist Church, the members met at a location near the corner of Smith Ave. and Dawson St. in a building known as the Piney Woods Lots. Many of its members were slaves. In 1866, the African American members of the Negro-White Baptist Church gave notice that they would withdraw from the agreement to share a building with the whites in order to become an independent church. The land needed for a building was donated by a member of the white congregation, Mr. Alex Smith, who specified the land be used for church purposes only. The pioneer members of the First African Baptist Church worshiped under a "Bush Harbor" on the property at the corner of E. Calhoun St. and Madison St. until they were able to construct a church building. Fundraising efforts continued until 1890 when the current location of First Missionary Baptist Church began construction. The cornerstone for the current church building was laid on July 29, 1900 under the leadership of the seventh pastor, Rev. Jeremiah B. Davis. First Missionary Baptist Church is on the National Register of Historic Places.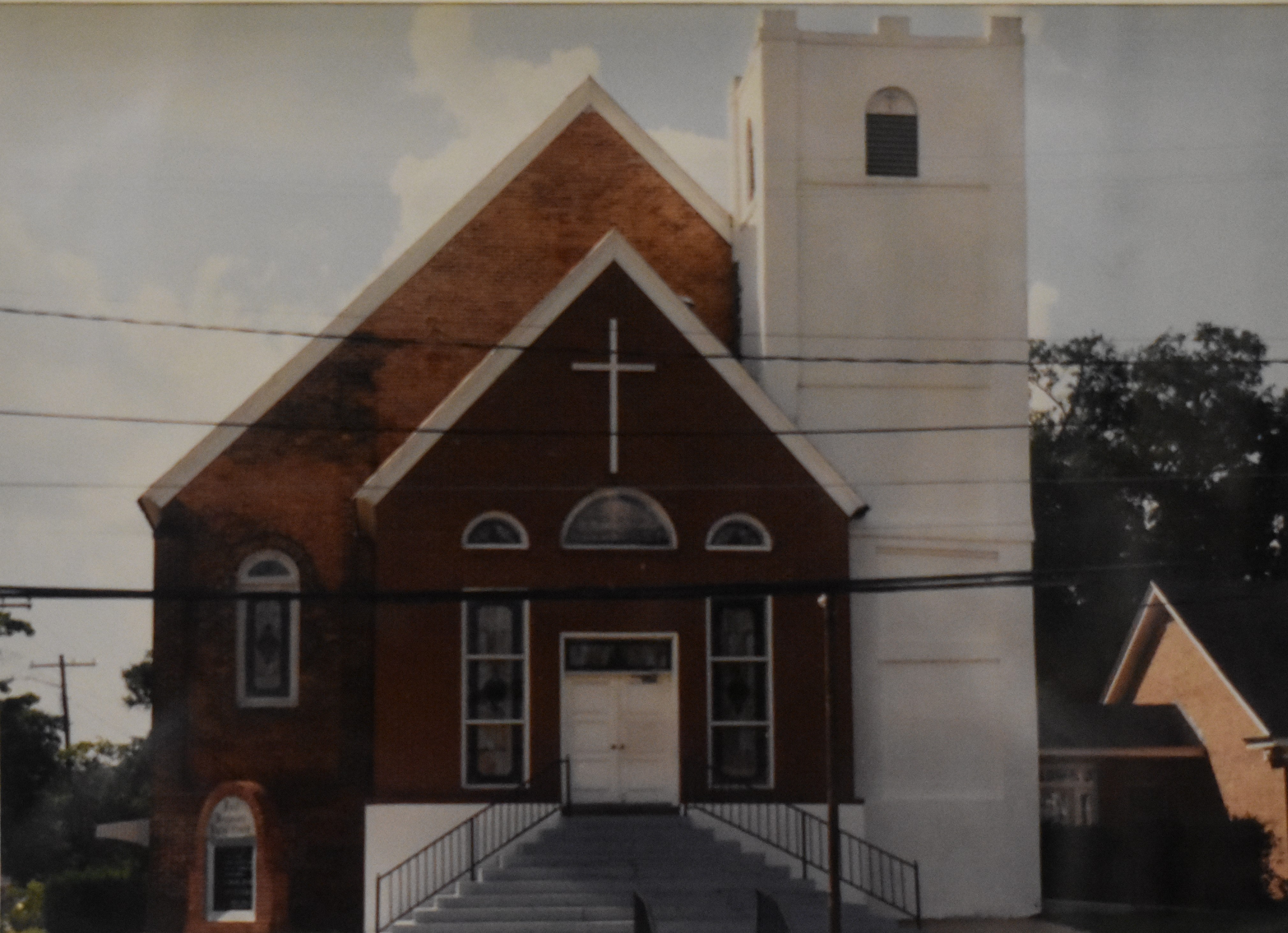 Good Shepherd Episcopal Church
515 Oak Street – The Good Shepherd Episcopal Church was founded 28 years after the Civil War. A group of 27 African Americans familiar with the services of the Episcopal Church wanted a church of their own. With the help of members of St. Thomas Episcopal Church, they built a church building and dedicated it on April 8, 1894. The inside ceiling beams of the church are structured like an upside-down slave ship. After the Parish Hall was built, it served as a meeting place for many community organizations. In this parish hall, Father Perry operated a parochial school for grades K – 5 for over 32 years. The Episcopal congregation is also one of the few churches that maintained a racially mixed congregation in the late 19th and early 20th centuries. The church is on the National Register of Historic Places.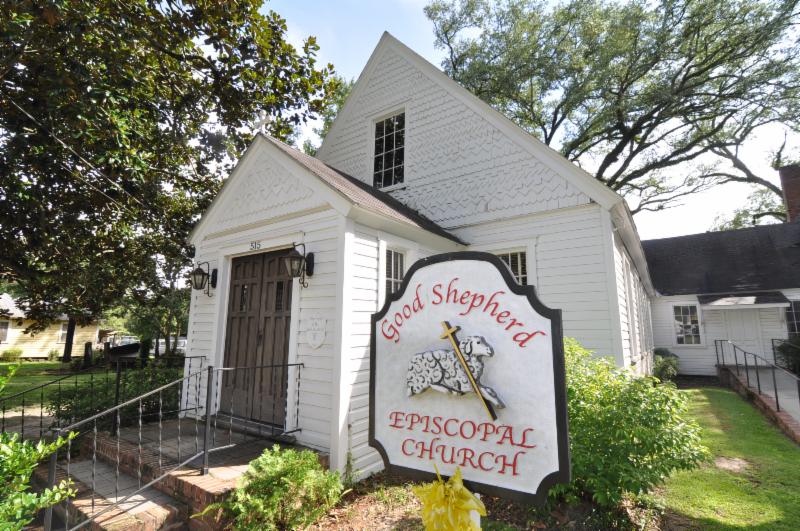 Ochlocknee Missionary Baptist Church
521 U.S. Highway 319 South – Ochlocknee Missionary Baptist Church is located about 12 miles south of Thomasville. The church was founded in 1848 on the corner of U.S. Highway 319 South and Mercy Seat Road. After the original building burned in 1918, the congregation moved to its present location and built a new sanctuary on land sold to the church for $25 by Lula Reid Hadley, known as the first "mother" of the church. The church was built in 1918 and is a frame building approximately 75 feet long and 22 feet wide. The architecture of the church is significant because of its simple form and design, not only typical of rural African American churches, but of Primitive Baptist churches as well. During the 20th century, many church members worked, lived and went to school at nearby Pebble Hill Plantation. A steeple was added in 1947 as a donation from philanthropist Elisabeth "Pansy" Ireland Poe, owner of Pebble Hill Plantation. A local African American building contractor added the vestibule and assembled the donated steeple at the same time. The church was also significant in the area because it served the local African American community as an important social institution and was the location for important family, civic and charitable activities. In 2010, Ochlocknee MB Church was listed in the Georgia Register of Historic Places.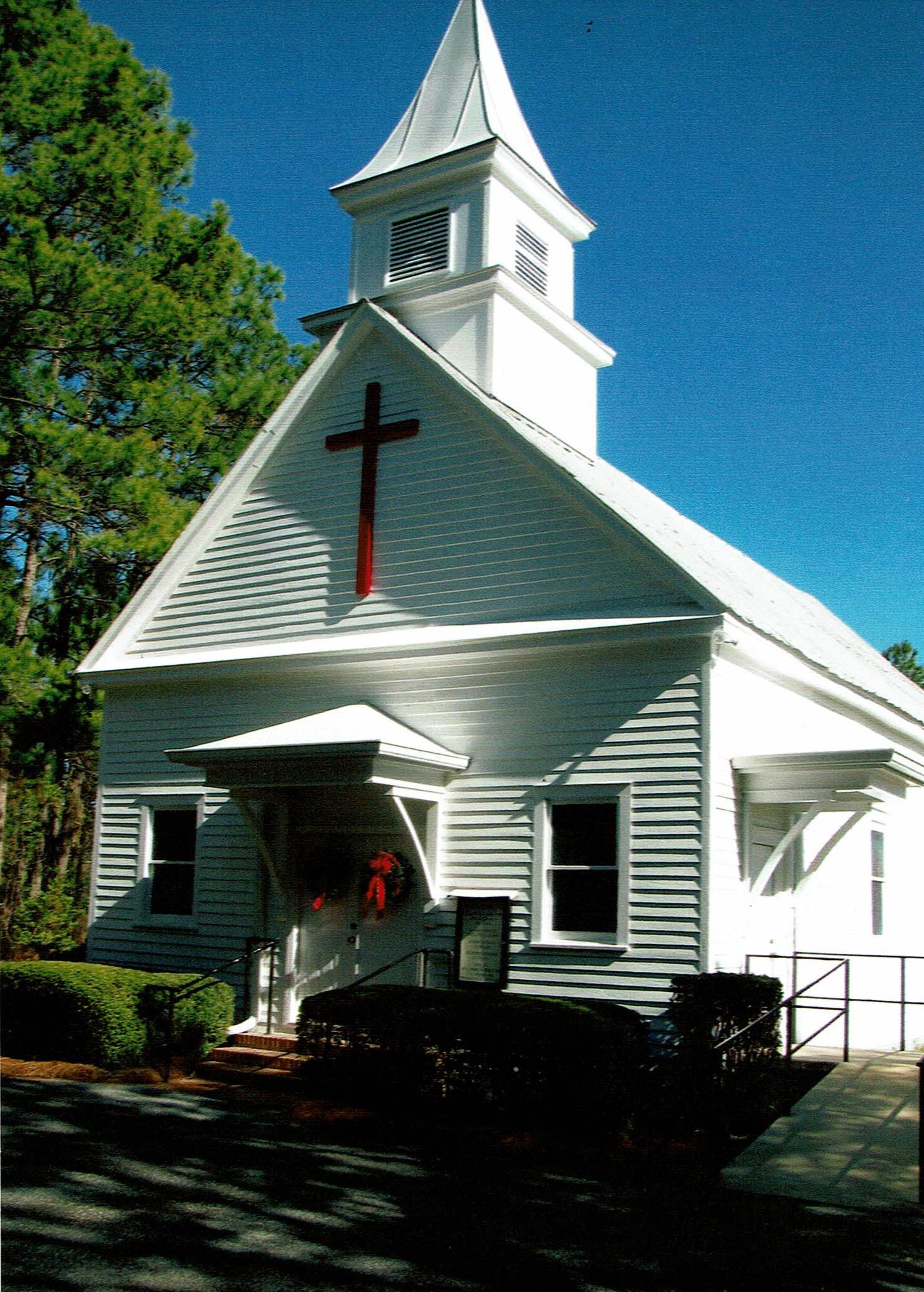 Historical Information and photos provided by the Jack Hadley Black History Museum.
Week 4 – Dewey City
For the last week of this year's Black History Month series "The Power of Place," we are proud to highlight Dewey City. A huge Thank You to Rev. Arthur L. Jones, III for allowing us to reprint an article he wrote about Dewey City that appeared in the Thomasville Times Enterprise on November 15, 2014.
Historically Significant
In the fall of 2008, Dewey City was designated the ninth historic district in Thomasville and listed on the prestigious National Register of Historic Places.
The Dewey City Historic District is a stable, mostly African-American residential section of town with a long and very interesting story. The neighborhood had a major role in African-American history in Thomasville.
Dewey City is a single neighborhood made up of four historic plats. Its origins date back more than 140 years. Geographically, the neighborhood extends from Culpepper Street to Felix Street to North Martin Luther King Jr. Drive to Wolf Street. At its inception, however, Dewey City extended to within a mile of the Thomas County Courthouse. The tract of land was owned by Simeon Alexander Smith, who later donated Paradise Park to the city.
In 1864, a Civil War prison camp for Union Army prisoners of war was erected in Dewey City. The prisoners of war were captured by the Confederate Army in Andersonville during Sherman's infamous March to the Sea.
After marching from Andersonville to Thomasville, the POWs were kept at the prison camp in Dewey City for a few weeks. Part of the large ditch embankment dug by local plantation slaves and the Union POWs for the camp remains today.
After the conclusion of the Civil War, newly freed slaves looking for property they could purchase and build homes on came to Thomasville. Dewey City was made available exclusively for them.
According to historical accounts, Charles Bluett Quinn was sympathetic to the plight of freed slaves. Quinn reportedly purchased land "out of Thomasville" and built a series of two cabins for former slaves. He made arrangements with freed slaves who had no money to buy the cabins, allowing them to pay for the housing by working in construction for him or by cutting down trees. Quinn would eventually build a church and a recreational center for former slaves.
The following are chronological facts about Dewey City:
• 1864: Civil War prison camp was established.
• 1865-1899: Some houses were constructed by former slaves.
• 1895: Frederick Douglass visited Thomasville.
• 1899: The settlement was formally named for Admiral George Dewey, a hero in the Battle of Manila during the Spanish-American War (1898).
• 1899: The first plat of Dewey City — known as the Quinn and Cochran Addition — was completed.
• 1904: The Quinn and Cochran Addition was filed and recorded as the Dewey City Subdivision in city records.
• 1909: The first school for African-American students was constructed in Dewey City. This school contained grades one through 10.
• 1911: The northernmost part of Dewey City was platted in Thomasville by O.M. Smith on May 27. The section was originally referred to as either Pine Summitt or Homestead Park.
• 1914: A portion of the land platted by Lizzie J. Quinn and O.M. Smith was given to the city for the building of "a colored people's school."
• 1920s: During this decade, Dewey City High School was renamed Douglass High School in honor of the renowned orator, abolitionist and academician, Frederick Douglass.
• 1920s-1940s: Dewey City experienced an extended period of growth and expansion. An influx of Dewey City residents included skilled laborers, railroad workers, landscapers and domestic workers.
• 1932: Mt. Zion Primitive Baptist Church established a private kindergarten.
• 1947: Loren Smith, a student at Douglass, wins a contest to name a new section of Dewey City. Loren named the new section — the area around Felix, Allen and Burns streets — Douglass Heights.
• 1949-1950: Douglass is the first African-American school in the region to have its own gymnasium. The Douglass gymnasium was originally an aircraft hangar at Spence Field in Moultrie that was deconstructed there, transported to the Douglass campus in Thomasville and converted as a single structure by Knight Construction. The hangars featured snap/wire technology.
• 1970: Having opened in 1902, Douglass High School closes. Douglass High School was demolished once the Thomasville City School System was officially integrated.
• 2000s: The Douglass campus/complex becomes the property of the Douglass Alumni Association.
• 2008: Dewey City is added to the National Register of Historic Places on Aug. 28.
The Dewey City section of Thomasville was first settled by white residents in the early 19th century. Several streets in the northern section of Dewey City — specifically Forrest, Felix and Festus — might possibly have been named after notable Confederate generals and soldiers. This long-held belief is antidotal, and remains unverified.
McKinley Street was named for U.S. President William McKinley (1897-1901). Alexander Street was named for Judge John Ramsey Alexander, who died in 1901. Hobart Street was named for U.S. Vice President Garret Hobart. Hanna Street was named for the wealthy Industrialist Joseph Hanna. Luke Street was named for Judge John Luke. Roddenberry Street was named for Thomasville Mayor John Roddenberry. Allen and Cobb streets were named for prominent Thomasvillians of the time.
During the decades of segregation, Dewey City was notable for being fully self-sustaining. It had its own beauty salons, barber shops, grocery stores, convenience stores, childcare facilities, cafes, snack shops, auto garages and several churches.
Said Arthur Jones Jr., a 1959 graduate of Douglass High School and resident of Dewey City for nearly 40 years, "Dewey City was a good place to live. I didn't grow up in Dewey City, but I lived close by. I attended school there. It was quiet and peaceful back then, and it still is. I have nothing but fond memories of that section of town."
Several historic community landmarks still stand in Dewey City, including: the Douglass High School gym and band room (1950), the Douglass High School county vocational building (1953), and St. James Primitive Baptist Church (1953). The Dewey City Branch — at the intersection of Alexander and Martin Luther King Jr. Boulevard — was used as a baptismal pool by neighborhood churches until 1940. The Dewey City Branch was a clear spot in Oquina Creek surrounded by white sand. For baptisms, congregants of Dewey City area churches marched to the branch in robes singing gospel songs and/or hymns. Once there, the baptisms would take place in view of the pastor, church officers, family members and church members.
Dewey City has long been known for its architecture. The neighborhood still contains a wide variety of house types: American small house, bungalow, concrete block, cottage, gabled-ell, New South cottage, ranch, shotgun, side-gable cottage and side-hall cottage.
Houses in the neighborhood range from those built in the 19th century to brand-new homes. Some plots were undeveloped or vacant and used informally as side yards or for gardens.
Douglass Elementary, Douglass Middle and Douglass High schools were located on the main campus in Dewey City. The main campus was in the extended city block between Alexander and Forrest streets.
Douglass High School was the pride of Dewey City. School colors were blue and gold, and they were known as the Lions. Douglass High was widely regarded as a powerhouse athletically and academically. Douglass was held in such esteem that some rural families arranged for their children to board with Dewey City families so they could attend the schools. Douglass High also had a reputation for having excellent bands. Douglass High School and Douglass Elementary were closed in 1970, when the Thomasville City School System was officially integrated. Douglass Middle School remained open through the 1990s.
Jerome Simpson, a 1962 graduate of Douglass High School, said, "Everybody in Dewey City knew each other and looked out for each other. If you got into any kind of trouble, the adults who knew your parents would go straight to your parents to let them know what you had done. The teachers and coaches truly went the extra mile for every student, and they were well-respected throughout that community. As a member of both the football team and the band, it was a very exciting time in my life. I have so many great memories of my old neighborhood."
Said Alice Shaw Tillman, a 1962 graduate of Douglass High School, "The saying that it takes a village to raise a child is very true. That was the case in the Dewey City neighborhood and for the all schools at Douglass. Those teachers really cared. They would even come to our homes to speak with our parents or grandparents. Any students not living up to their potential got called on the carpet. I was taught that I could do anything in this life, and education was the foundation of that belief."
Doris C. Baker was a Dewey City resident who attended the schools at Douglass during segregation. "I was well-prepared intellectually and socially by the teachers there. My teachers did their very best with meager resources at their disposal. They did a wonderful job in helping to mold me into the person I am now. In my youth, you dared not do anything unbecoming because you knew word would beat you back home. You didn't want that to happen. We were all held to a very high standard."
A 1959 Douglass High School graduate, Savannah Hill said, "I loved the time I spent in and around Dewey City. At Douglass High, I was a member of the track team for Coach James Bryant. After my high school graduation, I moved up north and began my career. Douglass was and shall remain my beloved alma mater."
Now as in the past, the vast majority of homes in the Dewey City neighborhood have consistently well-maintained lawns and landscaping. The area is populated by a cross-section of residents of all ages, working people and retired people, and Thomasville natives and transplants who moved here from someplace else. Dewey City is a quiet, safe, clean, stable and vibrant subsection of Thomasville.
It took years of hard work on the parts of Thomasville Landmarks Inc., community leaders, local residents and city planners for Dewey City to be awarded its National Register Listing in 2008.
Early next year, a bronze marker for the Dewey City subdivision will be dedicated by the Historic Preservation Division (HPD) of the Georgia Department of Natural Resources, Georgia's historic preservation office.
Historical information for this story was provided by Thomasville Landmarks and the Jack Hadley Black History Museum. The photo was provided by the Thomasville History Center. Thank you again Rev. Arthur Jones, III.
Black History Month Trivia Contest
Each Wednesday in February, we will post a new trivia question on our Facebook page related to Black History Month. We encourage our citizens to comment with the answer to the question. On Fridays, we will post the answer and have a random drawing from all the correct entries. The winners will be posted on our Facebook page and website and they will receive a prize package.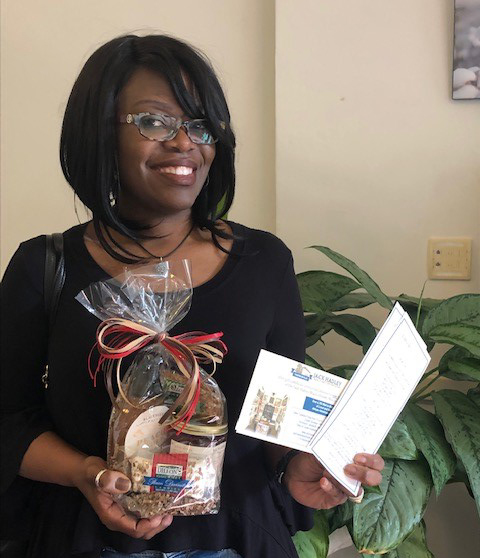 Week 1 Winner – Cynthia Drayton
Week 2 Winner – Denise Yates
Week 3 Winner – Vernice Donna Lewis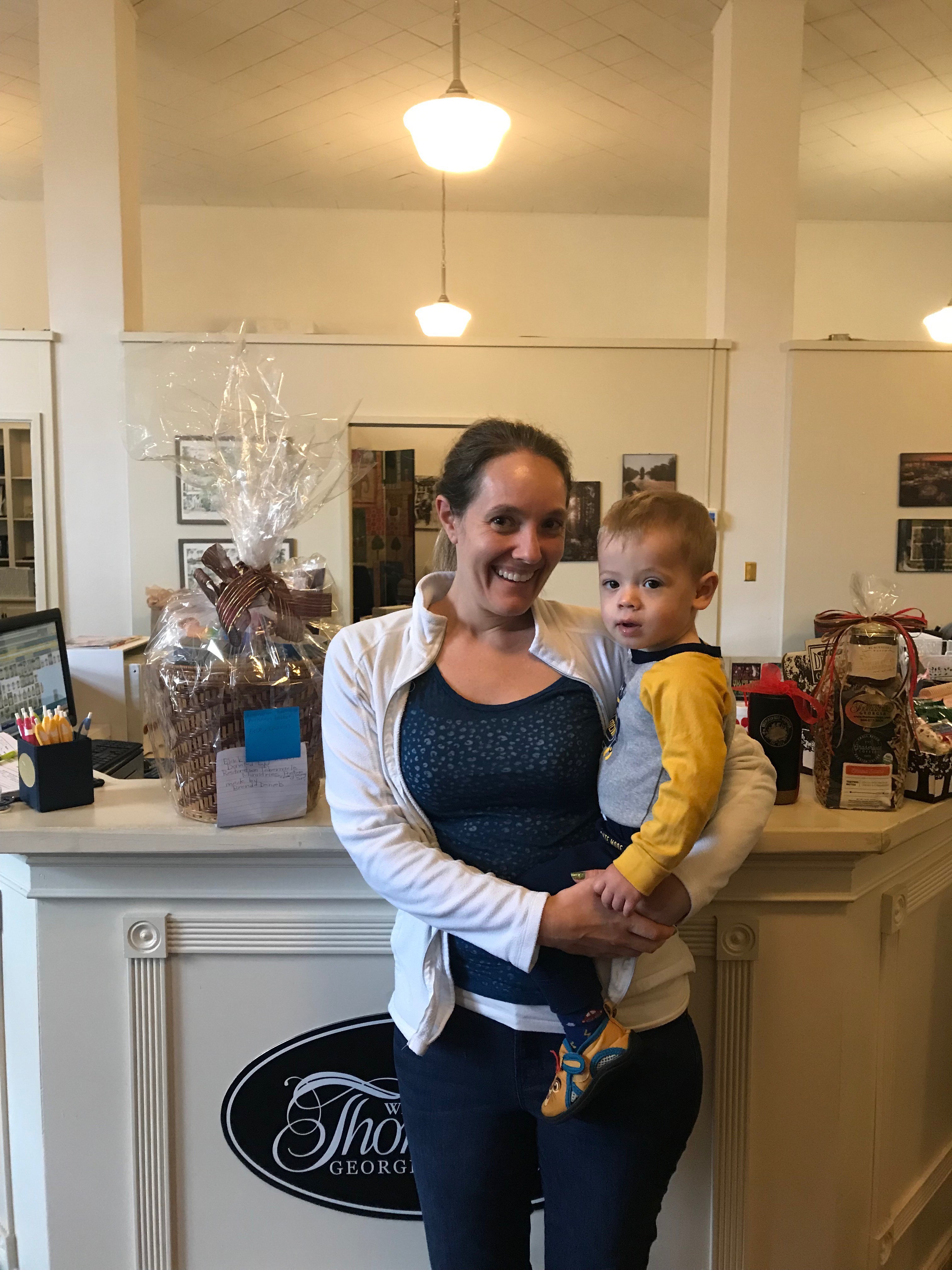 Week 4 Winner – Becky Cuevas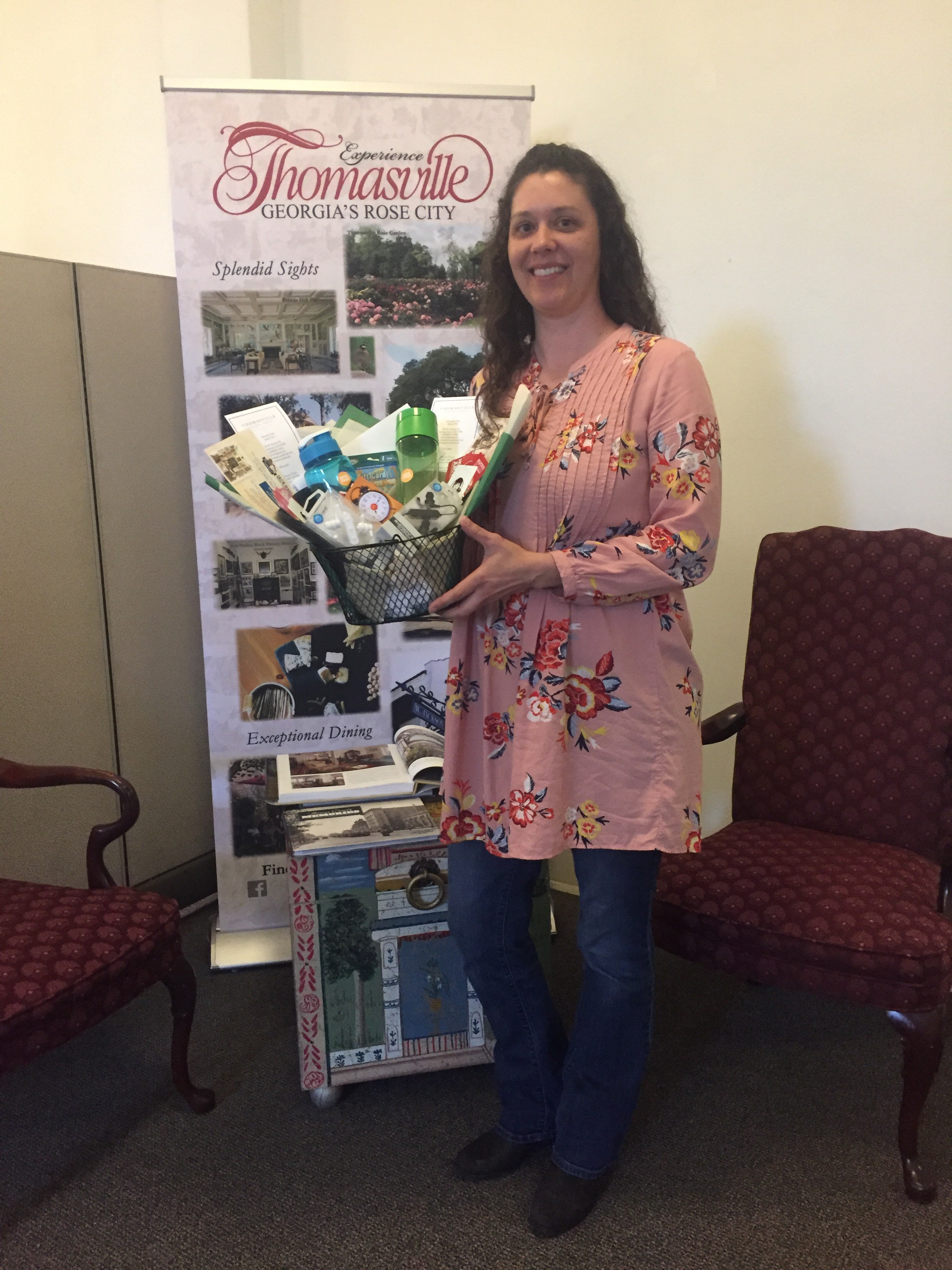 Grand Prize Winner – Michelle McClellan