West Jackson Streetscape
Exciting plans are in the works for West Jackson Street. Through a public engagement process that began in 2017, citizens have come together to contribute their ideas to the development of a streetscape plan for this downtown area. The project focuses on the area of West Jackson Street from Madison Street to Remington Avenue at the railroad crossing.
The final plan, which was shaped by public input, was formally endorsed by the Planning and Zoning Commission and Main Street Advisory Board and will be presented to the Thomasville City Council for formal vote in April 2019.
Questions and comments can be directed to April Norton, Main Street Director, at (229) 227-7020.
Click here to view the detailed plan for the West Jackson Streetscape Improvements.
Project Updates
May 1, 2019 – Construction on the West Jackson Streetscape project began on April 29, 2019. Things are moving at an accelerated rate. Water main and storm water improvements have begun on the north side of the 200 and 300 blocks of West Jackson Street. Currently there are detours in place from Madison Street to Jefferson Street to Lee Street. Follow the Customer Access and Customer Parking signage to direct you to the West Jackson Street businesses. Pedestrian access and front door business access is available and will remain available throughout the entire project. Please continue to support our West Jackson Street small businesses.
April 2019 – On April 8, 2019, the Thomasville City Council approved and awarded a bid for construction of The Bottom District's West Jackson Streetscape project to CCH construction. The first phase of construction will begin on Monday, April 29, 2019. The first phase of the project will be the intersection of Stevens Street and West Jackson Street. This phase will be the only portion of the project that will require a complete closing of West Jackson Street. Unfortunately, there is no other way to complete the construction of this intersection without closing the intersection to vehicular traffic. It is important to start the construction in this area so that the historic brick pavers can be used for the completion of other areas of preservation in this improvement project. The anticipated length of time this intersection will be closed is three to four weeks. A copy of the detour map is pictured below: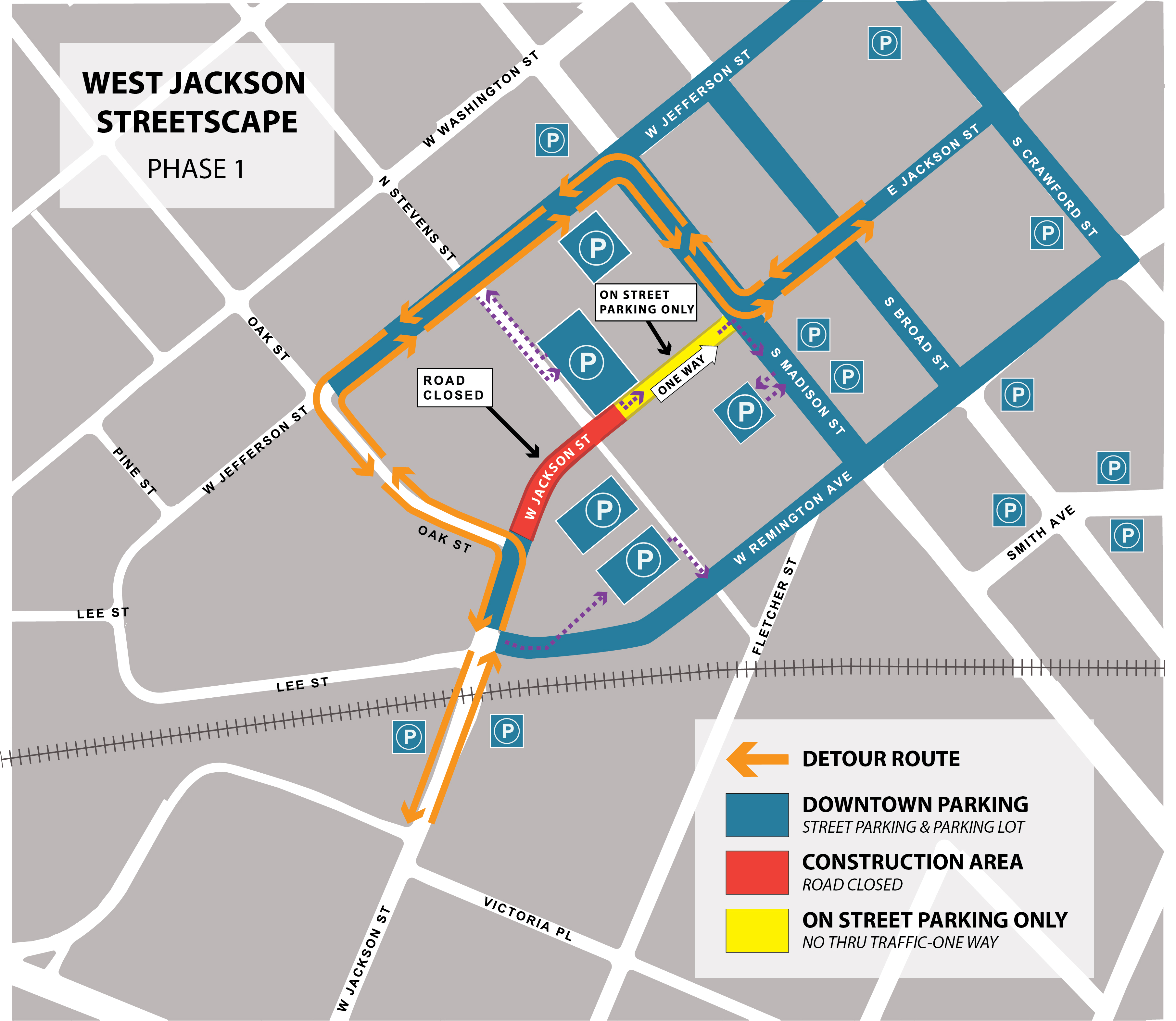 March 2019 – The Main Street Advisory Board for the City of Thomasville formally adopted a resolution to present to the Thomasville City Council in support of The Bottom District's West Jackson Streetscape project. Thomasville's Planning and Zoning Commission also approved the West Jackson Streetscape project and recommended the project be presented to the Thomasville City Council.
February 2019 – Public sessions were held for both the community and merchants and property owners to provide an update on the project, discuss the construction time frame and answer questions.
Winter 2018/2019 – During the winter months of late 2018/early 2019, staff worked diligently to prepare the detailed engineering plans and timelines and refined all concepts based on public input. These detailed plans were a crucial step in making this project ready to present for bids for construction of the project.
Summer 2018 – In preparation for this project, City of Thomasville Utilities began relocation of overhead utility lines and other precursory utility improvements. The Thomasville City Council approved a contract for professional services on July 23, 2018.
February & April 2018 – City of Thomasville staff provided a project updates to the Thomasville City Council on February 2, 2018 and April 4, 2018.
December 2017 – The concept design was presented and approved by the Planning and Zoning Commission on December 4, 2017. The Thomasville City Council approved the concept design on December 11, 2017.
November 2017 – After months of engaging with community members and actively listening to their ideas and concerns, a concept for the West Jackson Streetscape project has finally emerged. The City's primary goal with this project has been to set a new precedent for soliciting public input regarding major projects. The conceptual plan, which will enhance this vibrant area of downtown Thomasville, was unveiled to a crowd of over sixty community members at an open meeting Monday, November 20 at Trinity Anglican Church. Thomasville residents will have an additional chance to offer feedback during an upcoming Planning & Zoning meeting where the concept design will be reviewed by the Commission and a recommendation to City Council considered. The Planning & Zoning meeting is scheduled for Monday, December 4 at 5:30pm in the Council Chambers at 144 East Jackson Street. To review this conceptual plan, please click here.
October 2017 – Two Discovery Walks were recently held to gain public input for the West Jackson Streetscape project area. Great input was received from the community. Below are pictures from the event: