Introducing Your New Statement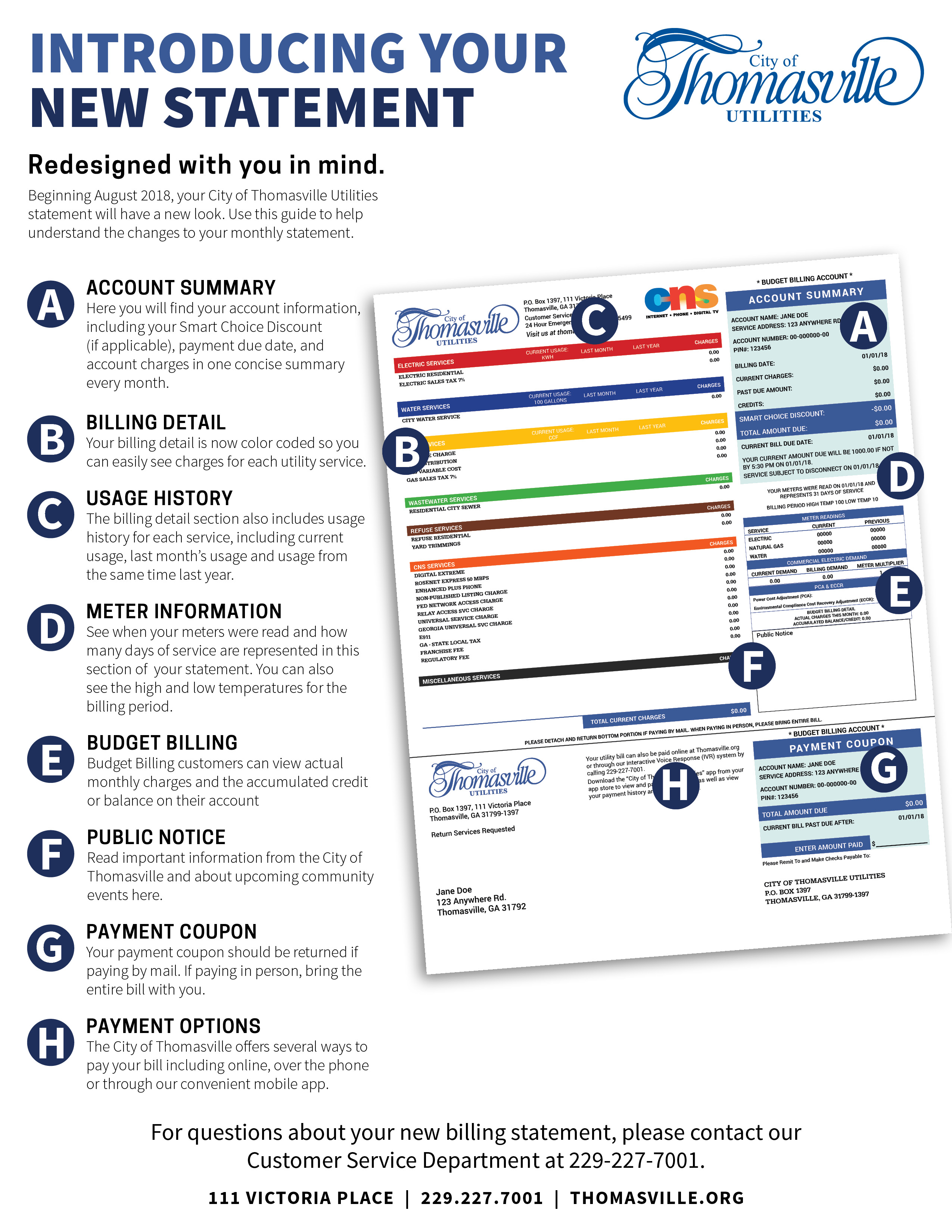 Beginning in August, City of Thomasville Utilities and CNS customers will notice a change in the look of their monthly statements. The new design will allow customers to more easily see the charges associated with their different services by grouping them together under color coded headings. Customers will also be able to have access to more of their utility usage information and be able to compare their current month's usage to their usage from the previous month.
"We're very excited about our newly designed utility statements," said Karis Mills, Director of Customer Service. "We want our customers to understand their statements, and we feel this update will be useful to them in helping to explain their monthly charges. The new design makes it easy for customers to see exactly how their utility services are billed each month and also allows customers to compare their usage to not only the previous month, but also to the same billing period the year before."
The new design will also include other helpful information, such as a customer's account PIN number, which is needed when making changes to their services. "We've also included information that can help customers more conveniently track their usage, such as the number of days represented on the current statement and the high and low temperatures of the billing period, all of which affect a customer's usage and, ultimately, their monthly bill," said Mills.
For customers wishing to track their own usage throughout the month, exact meter readings and the date the meters were read can be found on the new statement design. "While customers can also use view this information on the free City of Thomasville Utilities mobile app, we felt customers would find this information helpful on their monthly billing statement as well," said Mills. "The mobile app is available for both iOS and Android devices and can be downloaded for free from the App Store."
City of Thomasville Utilities customers will receive detailed information about the new statement design with their July utility statements. "We look forward to our customers receiving the new design and having a format that is much easier to read and understand," said Sherri Nix, Marketing Project Manager. "More information is available by calling our Customer Service Center at 229-227-7001."