About the Thomasville Police Department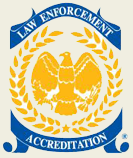 The Thomasville Police Department is commited to: Vigilance - Truthfulness - Tolerance
Thomasville Police Department's mission is to improve and maintain the quality of life within our community by working together to achieve a common goal, "A safe and secure city."
The Thomasville Police Department is accredited by CALEA and certified by the GACP.
Click here to view our organizational chart or annual reports.
Our Mission
In partnership with our community, Team Thomasville will deliver excellent and dependable public services while building trusting relationships through openness, inclusion and innovation.
Our Vision
A progressive and unified community providing an inviting place to live, work, play and prosper.
Our Values
Trustworthy and Dependable
We are dedicated to provide reliable services to our citizens and community.
Equal and Inclusive
We will empower a diverse and progressive culture to strengthen community partnerships.
Accountable and Transparent
We will maintain business proctices that build community trust with openness, integrity, and accountability.
Modern and Innovative
We will execute creative plans and innovative strategies to bring sustainable growth to our entire community.