City of Thomasville Park Reservation Procedures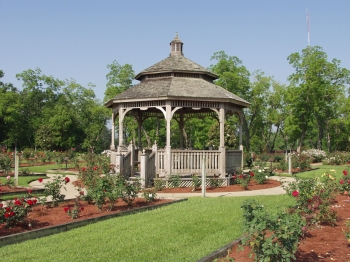 Although there are numerous parks within the City limits, there are only a few parks for which reservations for park structures are accepted for weddings, reunions, and other various activities. These are The Big Oak Gazebo (Elizabeth Ireland Poe Park), Thomasville Rose Garden Gazebo, Cherokee Lake Park Pavilion #1, and Francis Weston Park Pavilion. All other park structures are available to be used on a first-come, first-served basis. Please click here for more detailed park information.
Normal hours of availability are from sunrise to sunset. Please note that when reserving a park, you are, in fact, reserving specific structures and that portion of the park where they are located. Because all city parks are public property, your reservation does not constitute exclusive use of the entire park area in total. The use of inflatable or motorized carnival-type activities is prohibited.
For more information or questions regarding park reservations, please call (229) 227-7089 or e-mail Reserveapark@thomasville.org.
How to Reserve a Park
A reservation cannot be officially put on the calendar until all forms are completed.
All reservations must be made at least ten (10) business days in advance. Reservations will be accepted 11 months in advance. Any changes such as change of date, facility, time, etc., MUST be in writing and signed by the person who made the initial request.
A repeated or multiple booking is any request for a second reservation for the same park in the same month, or reservations in consecutive months.
Park hours of availability are from sunrise to sunset. Reservations are not accepted during major holidays (for example July 4th, Christmas, Thanksgiving, Easter, etc.); however, the park is a public place and can be utilized if the area is not already in use.
Applications can be dropped off at the City of Thomasville Marketing Department Offices, located at 111 Victoria Place; faxed to (229) 227-3366; or e-mailed to Reserveapark@thomasville.org. Please include a contact number on your application. No reservations will be taken over the phone.
FEES
Half-day pavilion/gazebo rental (4 hours) – $40.00
Full-day pavilion/gazebo rental (8 hours) – $100.00
The reservation holder is responsible for any damages to City parks and park structures. A park inspection will be held following a booked reservation. Should property damage be incurred or should excessive clean-up efforts be necessary, the reservation holder will be billed.
Please note that charges are not billed for normal maintenance efforts.
CANCELLATION POLICY
Any person or organization reserving a park structure is requested to notify the City of Thomasville Marketing Department immediately of cancellations, as there may be a waiting list for the park.
The City reserves the right to cancel a reservation with at least thirty (30) days notice, at anytime a group or individual violates Park regulations, or if the Facilities Director deems the park to be unusable or unsafe.