The City of Thomasville's 2021 First Friday Sip and Shop series continues on Friday, November 5th with an evening that will feature something for everyone. Spend a beautiful fall evening sipping and shopping through the downtown event area and cap off your night with a live concert by Mac Arnold & Plate Full O'Blues on the stage of The Ritz Amphitheater and Park.
"We are excited about the return of live concerts to the First Friday Sip and Shop series after a temporary pause of live concerts in September and October," said Madison Eaton, Special Events Coordinator. "These popular outdoor concerts are the perfect exclamation point on a great evening in beautiful downtown Thomasville on the first Friday of each month."
The highlight of the event filled evening will be the free concert at The Ritz Amphitheater and Park from 8:00-10:00 p.m. featuring nationally-renowned bluesman Mac Arnold and Plate Full O'Blues. Arnold hails from Pelzer, South Carolina, where at the age of ten he got his first taste of the blues. "Mac Arnold is a 2017 inductee into the Alabama Blues Hall of Fame who has performed with famous musicians like James Brown, Muddy Waters, Otis Redding, and B.B. King," said Eaton. "He is known for rocking the stages with his now-famous use of rhythm and slide guitars made from old gas cans." The band consists of Austin Brashier on guitar and vocals; Max Hightower on keyboards, harmonica, guitar, bass, and vocals; Zaire "Dizzy Dizzy" Scott on drums and vocals; and Mac Arnold on vocals, bass, and gas can guitars.
Prior to enjoying the sounds of the blues, guests are encouraged to stroll through Thomasville's award-winning downtown and enjoy sipping, shopping, and dining at one of the over 100 locally owned retail shops and restaurants. "We invite you to stroll through historic downtown and enjoy the unique taste of dining in downtown Thomasville's restaurants while taking advantage of seasonal deals at one of our unique retail shops," said Eaton. "Sip and Shop attendees seeking a different flavor can visit The Ritz Amphitheater to enjoy food from A Lil Taste of New Orleans, Taste of Heaven BBQ, or Foodie Pops food trucks beginning at 6:00 p.m."
Eaton says that all City sponsored events will continue to follow the CDC guidelines for public health and the recommendations of the latest Executive Orders from the Governor for outdoor gatherings. "We continue to offer our guests handwashing stations that are strategically located throughout the downtown area, and all public restrooms and outdoor seating areas are also regularly sanitized," said Eaton. "Guests are encouraged to continue to practice safe social distancing and good hand hygiene while enjoying their visit to downtown."
"The holidays are right around the corner and the extended shopping hours are a great opportunity for our locals and visitors to get a head start on holiday shopping while supporting our small local businesses in a healthy, safe, and socially distanced fashion," said Eaton. "We invite everyone to grab their Sip and Shop event cup and a wristband from one of the many participating restaurants and take advantage of an evening filled with sipping, dining, shopping, and great music and enjoy all that downtown has to offer."
For more information about the First Friday Sip and Shop events, visit downtownthomasville.com or call the Thomasville Visitors Center at 229-228-7977.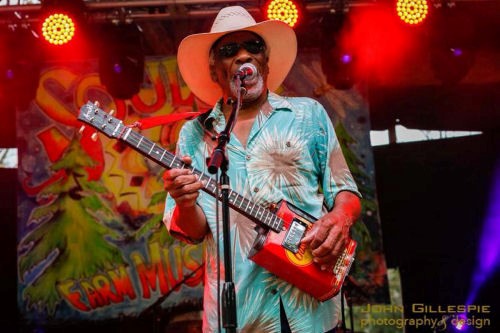 Pictured Above: Mac Arnold