Thomasville Fire Rescue
Every Home. Every Life.
Tim Connell
Fire Rescue Chief
Administrative Offices:
100 South Crawford St
Thomasville, GA 31792
(229) 227-4099 (Monday-Friday, 8 am–5 pm)

Thomasville Fire Rescue is an all-hazards preparedness fire and rescue service. Services include fire prevention, life safety, public education, fire investigation, hazard risk reduction, emergency medical response, rescuing trapped or endangered persons from any life-endangering cause, and protecting the community from the hazards associated with fires and uncontrolled releases of hazardous and toxic materials.
The fire protection services of Thomasville Fire Rescue, as rated by the insurance industry, are an ISO Class 2 Public Protection Classification (PPC). This top rating puts the City of Thomasville in a special group of communities in the country as a part of the top 2% of American communities for fire protection.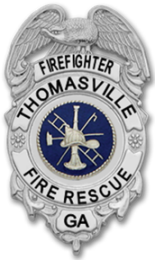 Fire departments across the nation are rated by the ISO to determine a Public Protection Classification (PPC) for individual cities or counties. This rating is published by the ISO and used by insurance companies to determine insurance rates. The ISO Schedule develops a PPC number on a relative scale from 1 to 10, with 1 being the very best and 10 representing less than minimum recognized fire protection. Most U.S. insurers of homes and business property use the PPC in calculating premiums. In general, the price of fire insurance in a community with a good PPC is substantially lower than in a community with a poor PPC.
Key elements considered when evaluating a fire department include response capabilities (deployment analysis), which includes adequate staffing of fire service personnel on engine crews and ladder companies, fire station distribution (location and coverage), appropriate apparatus and equipment, training, water supplies, organizational structure, communications, community risk reduction, and building/fire prevention codes and their enforcement.
Thomasville Fire Rescue has a long-term commitment to excellence. An ISO Class 2 rating saves our residents significant money on their homeowners insurance and results in an even greater savings to our commercial businesses and industries. This is one more reason for families and business owners to locate to the City of Thomasville.