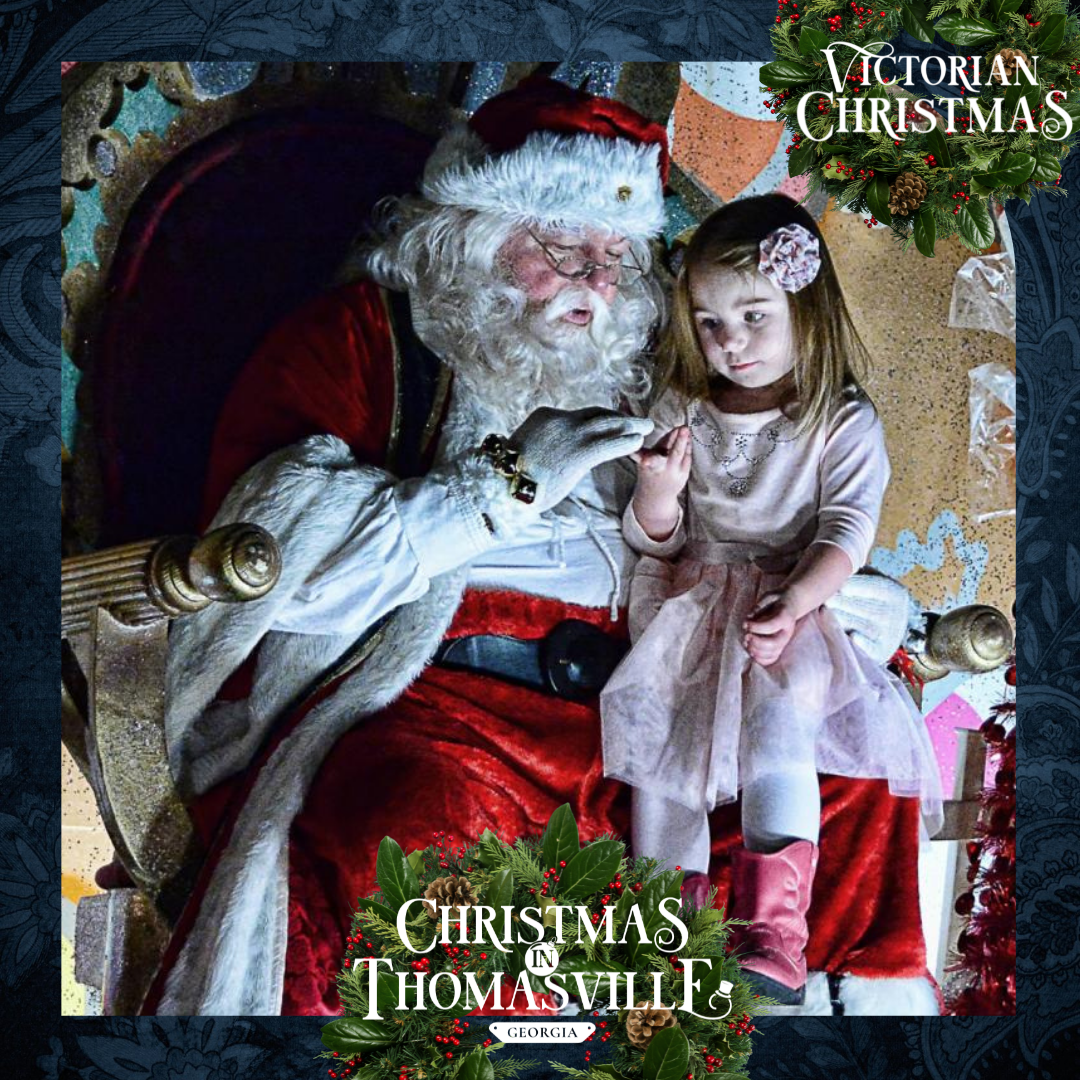 The 35th Annual Victorian Christmas will highlight Christmas in Thomasville when it returns to the bricks of Downtown Thomasville on Thursday and Friday, December 9th and 10th. Guests can turn back time and experience the holiday spirit of the Victorian era during this cherished Thomasville tradition each evening from 6:00-9:00 p.m.
"This year's event is sure to be the largest and most special Victorian Christmas we have hosted to date," said Madison Eaton, Special Events Coordinator. "With food vendors, musicians, entertainment, and photo opportunities, guests can journey into the past as our turn-of-the-century downtown ushers them into the spirit of Christmas long ago."
According to Eaton, this year's event will feature traditional favorites that are loved by guests. "Carriage rides, kid's activities, marshmallow roasting, a variety of delicious food vendors, musical performances, blacksmith demonstrations, and live reindeer are yearly favorites of our guests," said Eaton. "St. Nick will once again visit with children; however, he will be hosting visitors in his new winter wonderland located in the Unvacant lot on West Jackson Street." The cute furry friends of The Thomasville-Thomas County Humane Society are once again looking forward to receiving visits from guests at the pet adoption site on East Jackson Street.
Larger-than-life photo opportunities have quickly become a staple of visitors to Downtown Thomasville during the holiday season. "Victorian Christmas will provide our guests with new photo opportunities when they enter our large snow globe located on South Broad Street near the Toscoga Market Place," said Eaton. "The snow globe can accommodate up to six people at a time, whether with your family or friends, it is sure to be a magical photo opportunity." Other new photo opportunities are located throughout downtown.
Eaton says that live entertainment will be in abundance throughout the event area during both evenings of the treasured holiday gathering. "The stage of The Ritz Amphitheater will be bustling with performances from local choirs, ballet companies, and dance groups on both evenings," said Eaton. "Our local high school bands will entertain guests with Christmas favorites in front of the Historic Courthouse on North
Broad Street and of course the Dickens strolling carolers will help everyone step back in time while filling the brisk evening air with their yuletide sounds."
In addition to entertainment, Victorian Christmas will feature a wide variety of dining options for all to indulge in during their visit. "Whether guests wish to enjoy street vendor favorites such as smoked turkey legs, stews, or chicken pitas, or visit one of our award-winning restaurants, Victorian Christmas has something for everyone," said Eaton. "Don't forget to leave room to satisfy your sweet tooth with fried Oreo's, funnel cakes, cookies, homemade chocolate fudge, and much more." Downtown merchants will also feature holiday-themed foods and beverages that will warm the body and evoke feelings of nostalgia.
Your visit to Victorian Christmas will not be complete without experiencing the live Nativity located at the corner of Broad Street and Jefferson Street. "This is a Victorian Christmas tradition presented by First Baptist Church that features talented actors and live animals," said Eaton. "You will want to make plans to attend one of their performances."
"Each year these two cherished evenings attract visitors from near and far and provide an economic boost to the Thomasville-Thomas County economy," said Eaton. "However, what makes it even more extraordinary is the way our community comes together to showcase the magic of Christmas in Thomasville."
Join us in Downtown Thomasville on Thursday and Friday, December 9th and 10th from 6:00-9:00 p.m. for two unforgettable evenings. Both evenings of Victorian Christmas are free and no tickets are required for admission. For more information about Victorian Christmas, Christmas in Thomasville, and a complete listing of events, please visit downtownthomasville.com or call the Thomasville Visitors Center at 229-228-7977.