Thomasville Police Department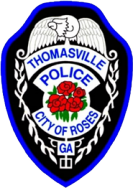 921 Smith Ave
P.O. Box 1540
Thomasville, GA 31799
(229) 227-3249
(229) 227-3305 (Crime Stoppers)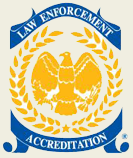 The Thomasville Police Department is commited to:
Vigilance - Truthfulness - Tolerance
Thomasville Police Department's mission is to improve and maintain the quality of life within our community by working together to achieve a common goal, "A safe and secure city."
The Thomasville Police Department is a CALEA certified organization.
Our Mission
We create and deliver exceptional service to our community through a culture of safety, courtesy, professionalism and efficiency.
Our Vision
An innovative organization exceeding community expectations.
Our Values
Teamwork
We are a diverse group of individuals working together to serve the community.
Respect
We will be humble and will treat each other the way we want to be treated.
Integrity
We are honest, fair and accountable for our actions.
Innovation
We reward creativity and imagination that improves service.
Service
We are proud of our community and strive to serve with excellence.
Customer Service Standards
As an organization, the City of Thomasville is committed to delivering outstanding customer service through key customer service standards related to gracious problem solving, attentiveness, verbal skills and attitude. Our staff pledges to:
Serve customers with care, courtesy and professionalism.
Make customers feel important and appreciated.
Be good listeners when speaking with our customers.
Show empathy to our customers' concerns.
Work cooperatively with fellow team members to assure quality service delivery.
Be considerate, honest, fair and accountable for our actions.