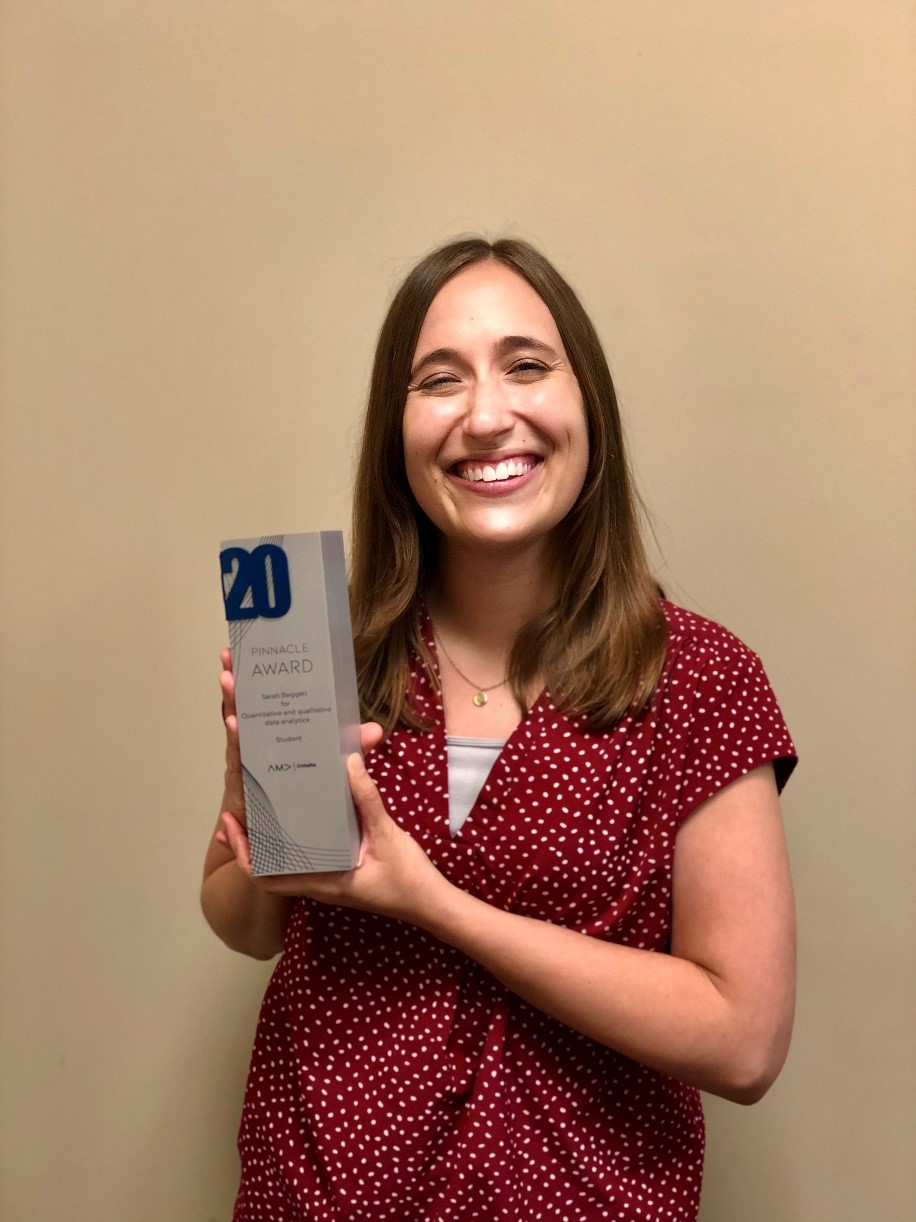 Sarah Baggett, City of Thomasville Marketing Manager, was recently awarded the Pinnacle Award by the Omaha Chapter of the American Marketing Association (AMA). The awards are an opportunity for local organizations to showcase their most successful marketing campaigns and strategies, which are judged using results-based metrics and measurable tactics. Baggett, who will graduate with her Master of Science degree in Marketing from Bellevue University in late July, was encouraged to submit her work in the student category by her professor.
"I am honored and humbled to receive this award," said Baggett. "An AMA chapter award is a tremendous achievement in our industry. Receiving this recognition for my project, which involved market research and planning, is extremely gratifying."
The American Marketing Association is a professional association for marketing professionals with over 30,000 members, 76 professional chapters, and 250 collegiate chapters nationwide. "The AMA strives to be the most relevant force and voice shaping marketing around the world. It is an essential community for marketers," said Baggett. "The membership is composed of dedicated professionals who work, teach, and study in the field and have a passion for advancing our industry."
Baggett received the award for her entry that focused on food experiences and their impact on vacation travel. "The data compiled to test the hypothesis of this study made it clear that culinary experiences not only assist in choosing a vacation destination but also increase the rates of a traveler returning to that destination," she said, adding that her interest in pursuing this study was fueled in part due to the work she performs for the City's tourism initiatives.
"It was an honor to submit a project that can eventually benefit our community. Thomasville boasts many restaurants and culinary tourism opportunities that offer unique food experiences. My goal is to take what I've learned through this project and incorporate it into the marketing plans that we develop as part of our tourism initiatives. I'm excited to implement marketing strategies that will continue to increase our food tourism numbers locally."
"Sarah is a very talented member of our marketing staff and has spearheaded many successful marketing campaigns," said Sheryl Sealy, Executive Director for Marketing and Customer Services. "I was not surprised to learn that her talent was recognized by her professor, who encouraged her to submit her work for this prestigious award. This is not only an outstanding professional development achievement for Sarah, but it can also be a tremendous benefit to our community as we incorporate her research into our future marketing strategies."