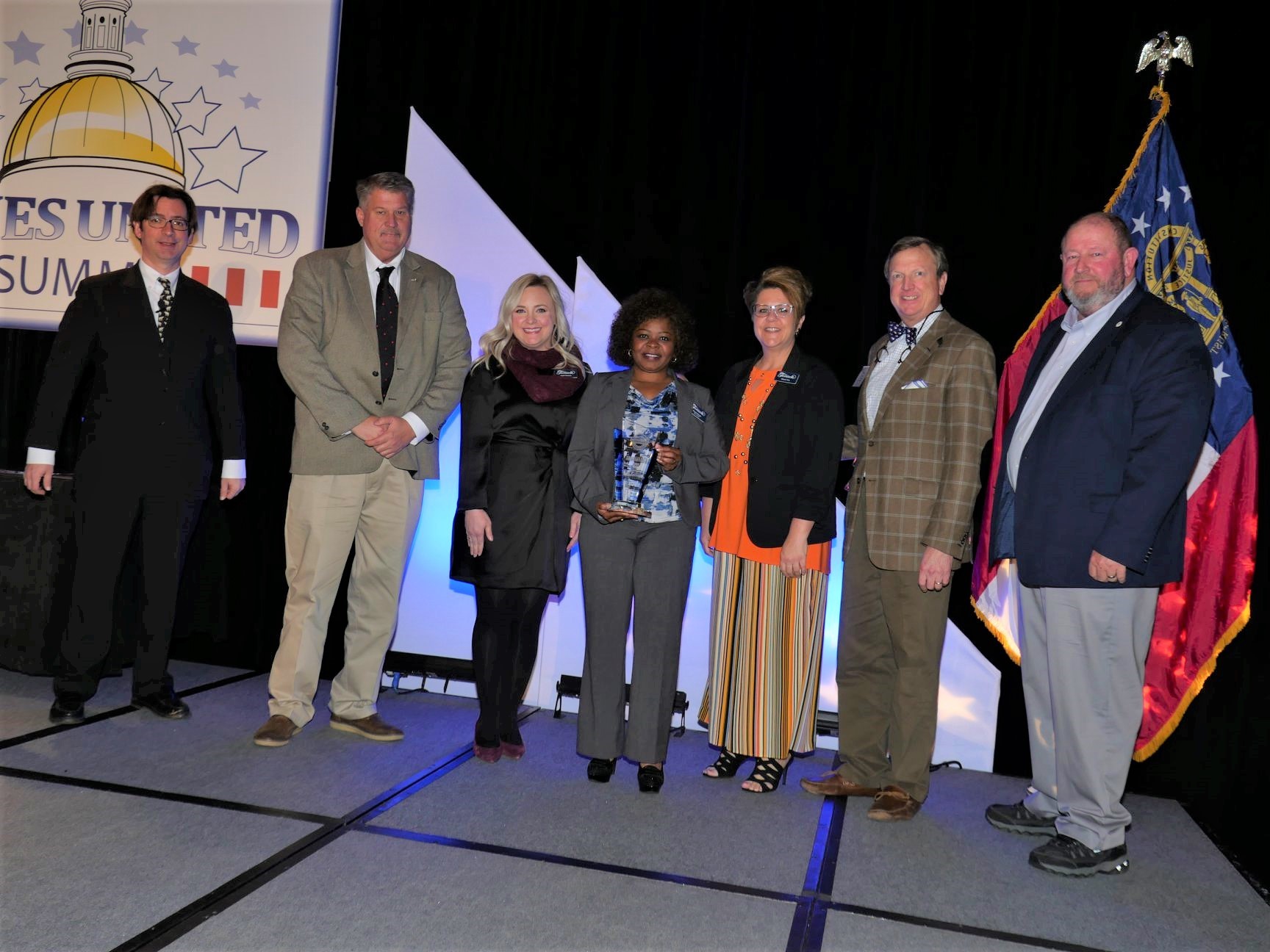 Thomasville was among nine cities from across Georgia that received the inaugural Visionary City Award presented by Georgia Trend magazine and the Georgia Municipal Association (GMA) during the association's Cities United Summit in Atlanta on Sunday, January 26. Thomasville was recognized in the medium category, representing populations from 5,000-24,999. Based in Atlanta, GMA is a voluntary, non-profit organization that provides legislative advocacy, research, training, employee benefit and technical consulting services to its 538 member cities.
"It's our privilege to honor the elected officials, city staff and community leaders of these nine cities who've led these initiatives and projects," said GMA Executive Director Larry Hanson. "These cities exemplify what it means to be forward-thinking for their residents and generations to come and also serve as inspiring examples of civility, collaboration and creating communities of positive change across Georgia."
Thomasville was recognized for the Creative District Vision Plan and redevelopment of "The Bottom" historic downtown area. The Creative District Vision Plan was put in place in 2014 by Thomasville Main Street leadership, City Planning staff, Thomasville residents and community partners and leaders.
"The Creative District Vision Plan was targeted at increasing economic opportunity, revitalizing the historic area, and bringing creative community resources together in this important segment of downtown Thomasville," said April Norton, Main Street & Business Development Director. "From this initial plan, three important projects were developed, including The Ritz Amphitheater and Park, the Community Trail trailhead and finally, the West Jackson Streetscape."
"It is an honor to be recognized as a Visionary City," said Thomasville Mayor Greg Hobbs. "Receiving this award proves that the public and private investment is not just visible to us on a local level, but also recognized at the State level as well."
Collaborative efforts were a critical aspect of the award criteria, with the winning cities demonstrating cross-sector partnerships amongst local government, nonprofits, and civic engagement. "We are grateful for partnerships like Thomasville Landmarks, the Thomasville Center for the Arts and the citizens of Thomasville for their collaboration on this project," said Norton. "This award highlights the great partnerships here in Thomasville and shows that our community is engaging not only in the planning of projects, but the execution as well."
Norton said, "The collaboration and innovation presented through the Visionary City Award has long-term value in the continued growth of our community and the interest of future investment and economic development of Thomasville."
Pictured above, from left to right: Georgia Trend Editor in Chief & Publisher Ben Young, City Councilmember Todd Mobley, Main Street & Business Development Director April Norton, City Councilmember Wanda Warren, Public Outreach Manager Sherri Nix, City Councilmember Jay Flowers, GMA President Phil Best