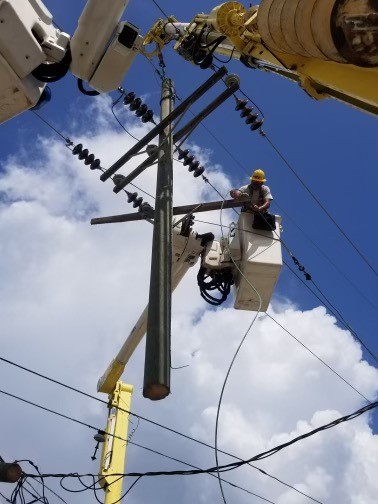 During the week of October 3rd – 9th, the City of Thomasville will observe Public Natural Gas Week, Public Power Week, and Customer Service Week. These national commemorations are meant to celebrate the benefits of locally owned utilities and the dedicated staff who provide essential utilities and customer services to our community.
Public Natural Gas Week, celebrated October 3rd – 9th, is an annual nationwide event intended to build public awareness about the value of having a community-owned natural gas utility that provides safe, reliable, and affordable natural gas service to homes and businesses. "There are approximately 1,000 not-for-profit public natural gas systems serving more than 5 million customers nationwide that are owned by and accountable to the citizens they serve," said Sheryl Sealy, Assistant City Manager. "The City of Thomasville thanks the dedicated team members of our Natural Gas department who provide this safe, reliable, and beneficial service to our community."
Public Power Week, also celebrated October 3rd – 9th recognizes the importance of a public power utility to a community. Public power is especially important to Thomasville as this utility revenue allows City residents to operate without property taxes. Each year, community-owned utilities like the City of Thomasville Utilities, observe Public Power Week to celebrate not-for-profit electric services proudly serving the electric power needs of about 40 million Americans. "We express our most sincere appreciation for the work and professionalism of our talented team of men and women who consistently provide our community with electric service, no matter the weather," said Sealy.
"The City of Thomasville is proud to work hard on a daily basis to fulfill our mission of providing competitively-priced and dependable public utility services to our customers in a way that exceeds their expectations while also building trusting relationships throughout our community," said Sealy. "It is due in large part to our knowledgeable and experienced staff who comprise Team Thomasville that we are able to fulfill this mission. We look forward to celebrating these individuals and departments in October."
Customer Service Week, celebrated October 4th – 8th, focuses on the importance of customer service and celebrates the men and women who provide exceptional customer service each day. Established by the International Customer Service Association (now named PACE) in 1984, it was proclaimed a national event by the U.S. Congress in 1992. "This year's theme, 'Celebrating the HEART of Service,' celebrates the people on the frontlines who have made a difference in the lives of their customers," said Chris White, Assistant City Manager. "Throughout the pandemic, our staff has learned to adapt the way we provide customer service to our residents. Our Customer Service teams have adapted to each new challenge. We are very proud of the many innovative ways our customer service teams have served and engaged with our residents through these times of uncertainty."
Citizens are invited to follow the week of celebration on the City of Thomasville Facebook page at facebook.com/cityofthomasville. "We have a great week of celebrations planned, and we encourage our citizens to participate by following our Facebook page to view the tributes we will be posting throughout the week," said White. "We salute our employees for their dedication to provide our community with Natural Gas, Public Power, and exceptional customer service, and we thank our community for allowing us to serve them each day."
For more information about the services provided by the City of Thomasville Utilities, visit our website at Thomasville.org or call 229-227-7001.