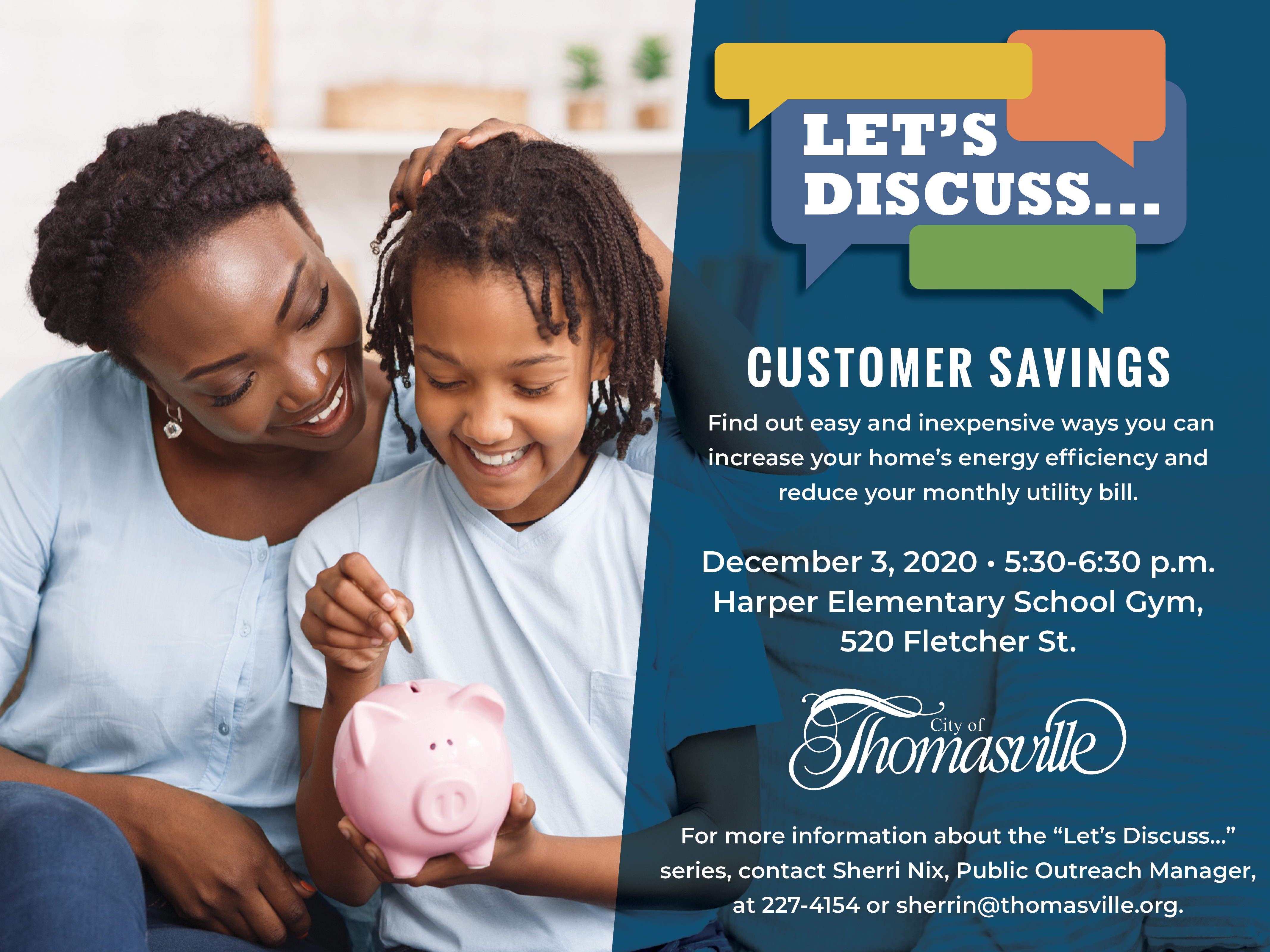 As winter arrives, cooler temperatures will soon follow. With this in mind, the City of Thomasville will host 'Let's Discuss…Customer Savings' on Thursday, December 3rd at 5:30 pm in the Harper Elementary School Gymnasium located at 520 Fletcher Street. Organizers say that this session will provide the community with easy and inexpensive ways to increase home energy efficiency and reduce utility costs.
"We are very excited to bring our community another installment in our 'Let's Discuss…' series, particularly after earlier sessions were suspended due to the Covid-19 pandemic," said Sherri Nix, Public Outreach Manager. "As many in our community continue to face economic recovery, it is important for us to provide home energy efficiency tips that can be implemented with little, if any, associated costs."
Nix said that the 'Let's Discuss…' event will provide information on the City's free energy audits available to customers. "We will be sharing information about our free energy audit program as well as the many other services and programs the City provides to help customers lower their utility consumption," said Nix. "Information on the City's Natural Gas Rebate Program will be also be discussed, along with details on no-interest financing options for new EnergyStar appliances. We'll share important information on how we can help with items such as the replacement of central heating and air conditioning equipment, additional insulation, and other changes that can help reduce your home's energy costs."
Nix said that the session will observe all safety measures related to the Covid-19 pandemic, including face coverings, temperature screenings, and limited seating capacity. "It is important to the City of Thomasville that this information is provided to our citizens in a manner that observes active Executive Orders and Health Advisories provided by Georgia Governor Kemp, Centers for Disease Control, the Georgia Department of Public Health, and local health officials in response to the coronavirus pandemic," said Nix. "Ensuring the health and safety of meeting participants and the citizens of Thomasville will be our highest priority."
For more information about the 'Let's Discuss…' series, contact Sherri Nix at 229-227-4154 or visit Thomasville.org.