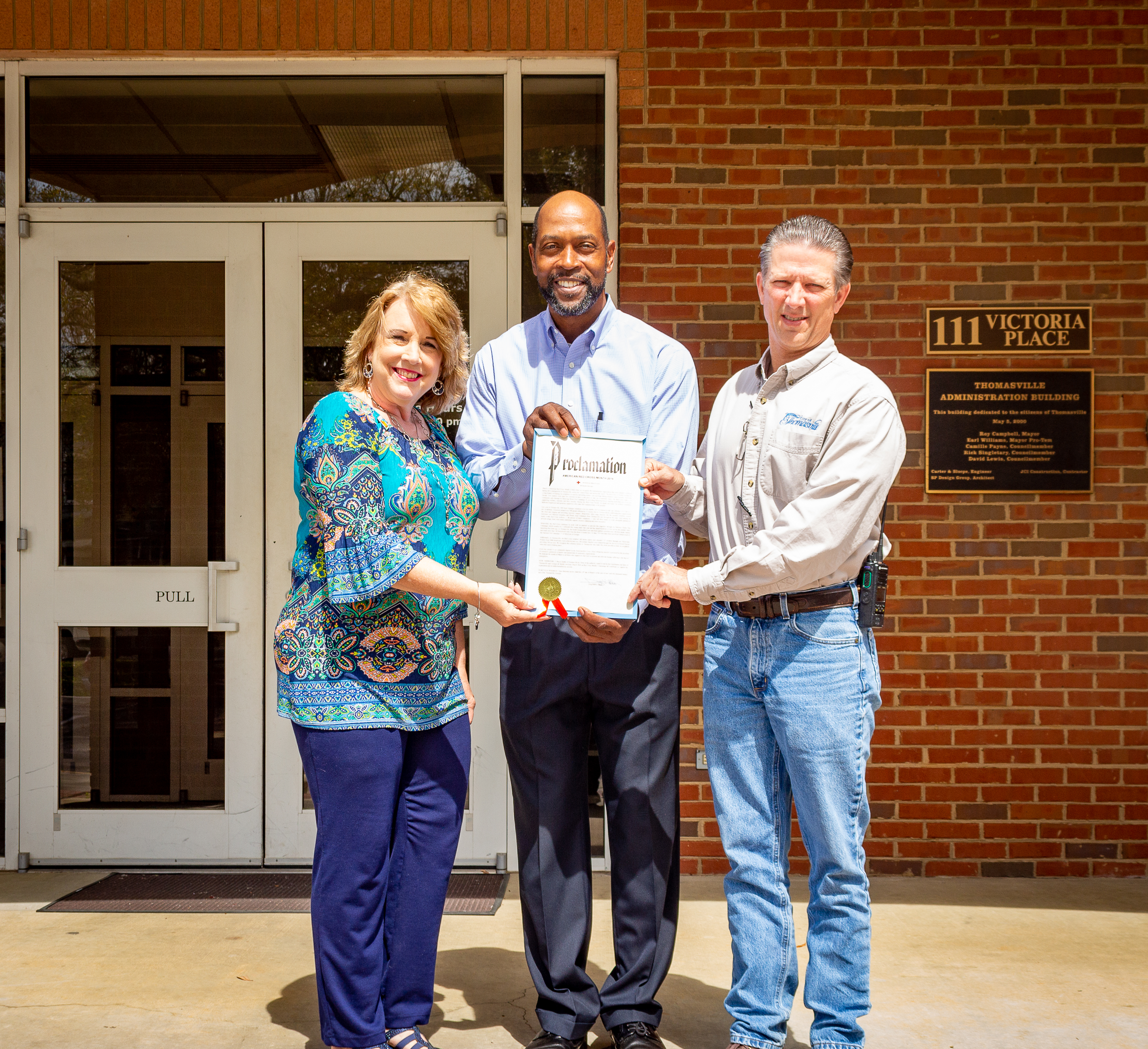 The American Red Cross was established over 130 years ago to deliver vital relief and support services to those in crisis and to also help prepare citizens to respond in emergency situations. In 1943, President Franklin Roosevelt declared March as "Red Cross Month" and every president since then has followed suit.
On March 10, 2020, Mayor Greg Hobbs presented Terri Jenkins, American Red Cross Executive Director of South Georgia and Mark Harmon City of Thomasville Chief Building Official and Red Cross of South Georgia Board Member with a proclamation recognizing March as American Red Cross Month.
"It is my honor on behalf of our community to recognize March as American Red Cross Month," said Mayor Greg Hobbs, "The American Red Cross and especially our local South Georgia chapter has provided tremendous assistance for of our citizens that have been impacted by natural disasters."
"Thank you to Mayor Hobbs for his longtime support to the Red Cross by taking time to present a proclamation.," said Jenkins. "The relationship with elected officials is strategic and crucial to the mission and service delivery in Thomas County."
"Red Cross Month is about urging people to "uncover their inner Hero"," said Harmon. "During this fiscal year, the State of Georgia has felt the tremendous impact of the Red Cross, with assistance provided in over 2,300 cases for people who were displaced by fires and other disasters."
The American Red Cross provides shelter, food, water, and emotional support to victims of disasters. The organization also teaches skills that save lives, and provides approximately 40 percent of the nation's blood supply. Chartered by Congress to provide immediate and direct assistance to those in South Georgia who are affected by disaster, the Red Cross of South Georgia relies upon the community to help deliver on their mission.
"We rely heavily on donations of blood, volunteers and financial contributions," Jenkins said. "Anyone who would like more information on how they can help the American Red Cross of South Georgia or how the Red Cross can help them, are encouraged to call our office at 229-226-2181."
Pictured Above, Left to Right: Terri Jenkins, Red Cross Executive Director of South Georgia, Mayor Greg Hobbs, and City of Thomasville Chief Building Official and Red Cross of South Georgia Board Member Mark Harmon