Some of Thomasville Fire Rescue's finest were honored with a pinning ceremony held on Monday, February 1st to commemorate several promotions and other awards of distinction. Recognized during the ceremony were Craig Dukes, promoted to Deputy Chief; Corey Thompson, promoted to Battalion Chief and Training Officer; Sean Meehan, promoted to Captain; and Ernest Moore, promoted to Lieutenant. The socially distanced ceremony held at TFR Station 1 was attended by family members, colleagues, Team Thomasville leadership, and City Council.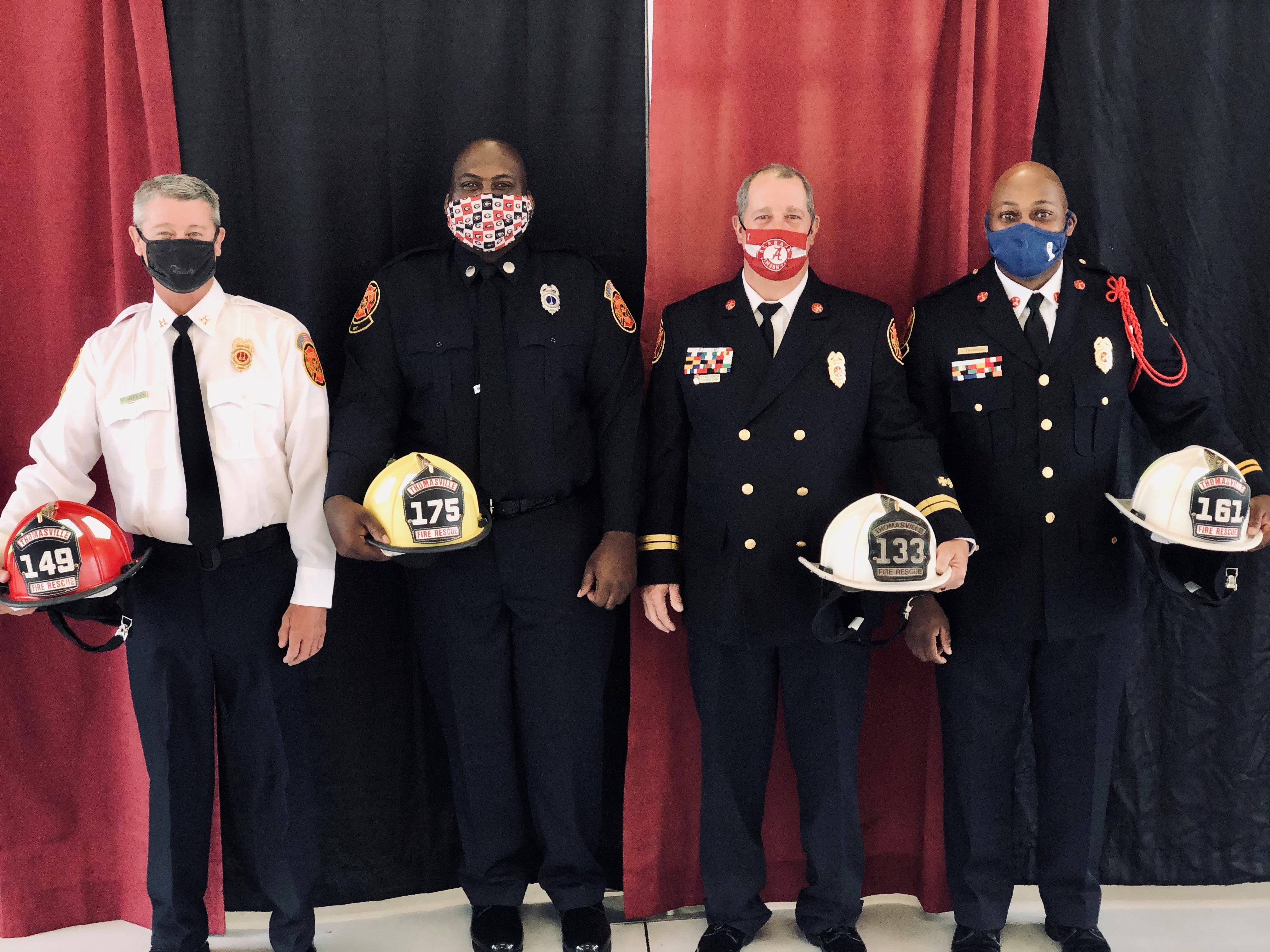 "This pinning ceremony is a worthy way of honoring these firefighters who stand as excellent examples of leadership," said TFR Chief Tim Connell. "They have earned their promotions through great sacrifice, professionalism, and a commitment to serving the citizens of Thomasville."
The recently promoted foursome all joined the TFR as firefighters, earning various promotions throughout their careers. Combined, the officers have provided TFR with nearly 45 years of service. Dukes first joined TFR in 2002 and before his most recent promotion served as Battalion Chief and Training Officer. Thompson began his career in 2012 and most recently served as a Captain. Prior to his promotion to Captain, Meehan, a veteran of thirteen years, served TFR as a Lieutenant. Moore joined the team in 2015 and received his promotion after serving as an Engineer.
Promotions within TFR are guided by Connell's recently implemented succession plan. "Fire service, as a whole, is working towards formalized plans that provide written standards of achievement for the promotion of personnel. One of the first acts upon my promotion to Fire Chief was to implement the TFR Succession Plan. College degrees, interviews, and essays are among the qualifications needed throughout the various phases of the plan. The executive command staff selects qualified candidates that have met the standard for the various levels of promotions within TFR."
According to Connell, previous pinning ceremonies were held during regular meetings of the Thomasville City Council. With space limited, Connell wanted to find a way to celebrate the achievements of his staff. He said the concept of the ceremony held on February 1s was recommended to him by City Manager Alan Carson. "Mr. Carson and I agreed that a dedicated ceremony to honor these officers was very important. We spoke about the journies that personnel travel to reach a level of promotion and, more importantly, how these individuals have earned this honor and deserve to have it shared with their family, friends, and colleagues." Connell believes that ceremonies such as these serve as motivation for all firefighters to pursue the highest standards possible and as an opportunity to be reminded of how thankful TFR and City leadership are for their sacrifices.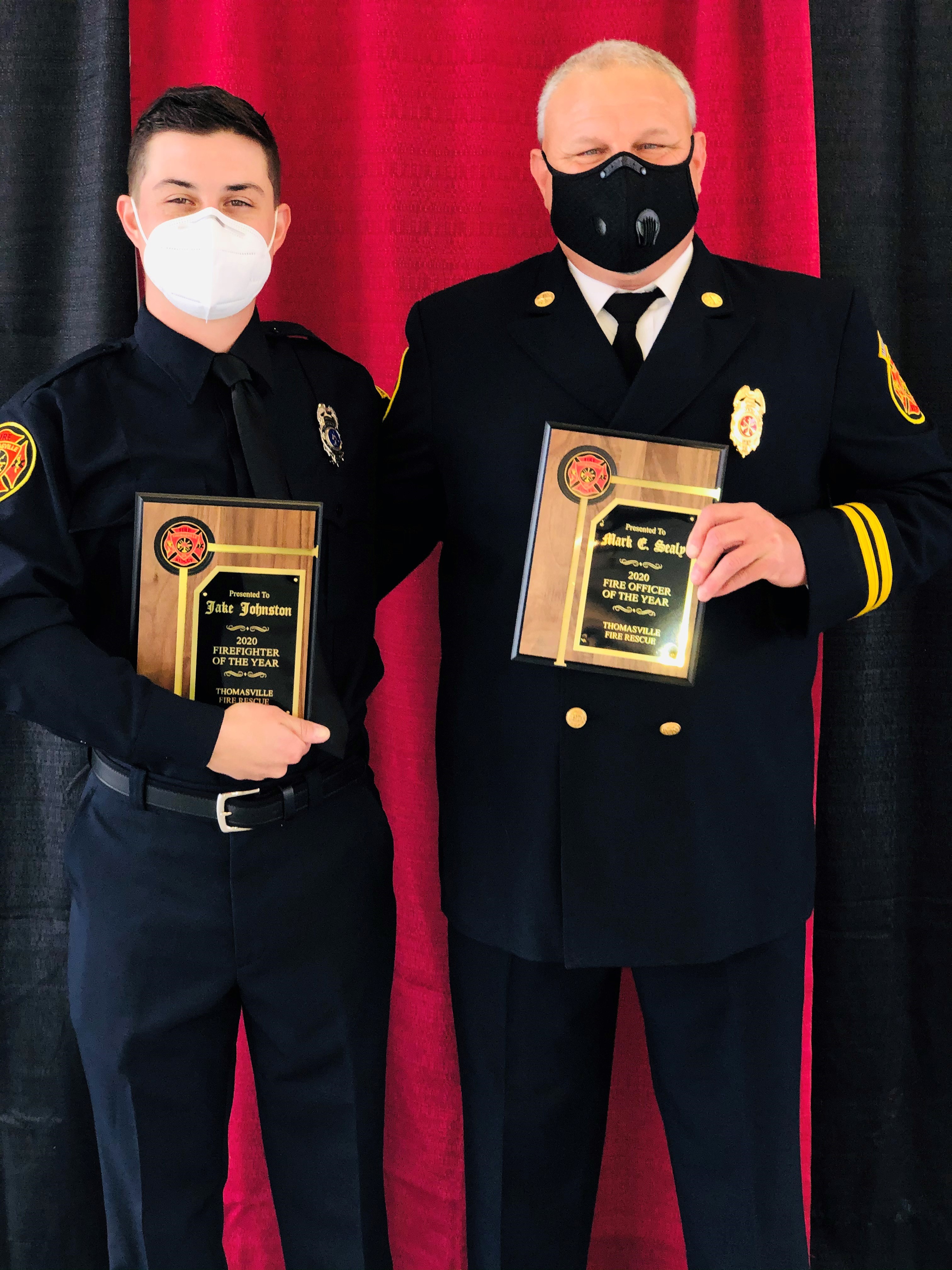 The pinning ceremony also provided an opportunity for TFR to honor their Firefighter of the Year and Fire Officer of the year, distinctions that are usually recognized at the department's annual banquet. Connell said that while the banquet could not be held this year due to COVID-19, the selection process for these two important awards continued. "We are very proud to have been able to honor Firefighter Jacob Johnston as Firefighter of the year and Deputy Chief Mark Sealy as Fire Officer of the year," he said. "Firefighter Johnston is dedicated to his position and constantly strives to serve the community to the best of his ability. Johnston has a great future ahead of himself." About Deputy Chief Mark Sealy, Connell said, "Chief Sealy has provided TFR with a lifetime of leadership. Not a day goes by where his leadership does not impact our firefighters or that of our executive command staff. Chief Sealy is invaluable to our team."
"Our community is in safe hands with the personnel that I am blessed to serve alongside in service to the citizens of Thomasville," said Connell. "As Chief, I am constantly amazed by the commitment to service displayed by our entire team. This happens because of leaders such as those that we celebrated today. I am confident they will continue to do great things in their new roles and provide excellent service to this great community."
---
Pictured above right, from left to right: Captain Sean Meehan, Lieutenant Ernest Moore, Deputy Chief Craig Dukes, Battalion Chief and Training Officer Corey Thompson.
Pictured to above left, from left to right: Jacob Johnston Firefighter of the Year, Mark E. Sealy Fire Officer of the Year