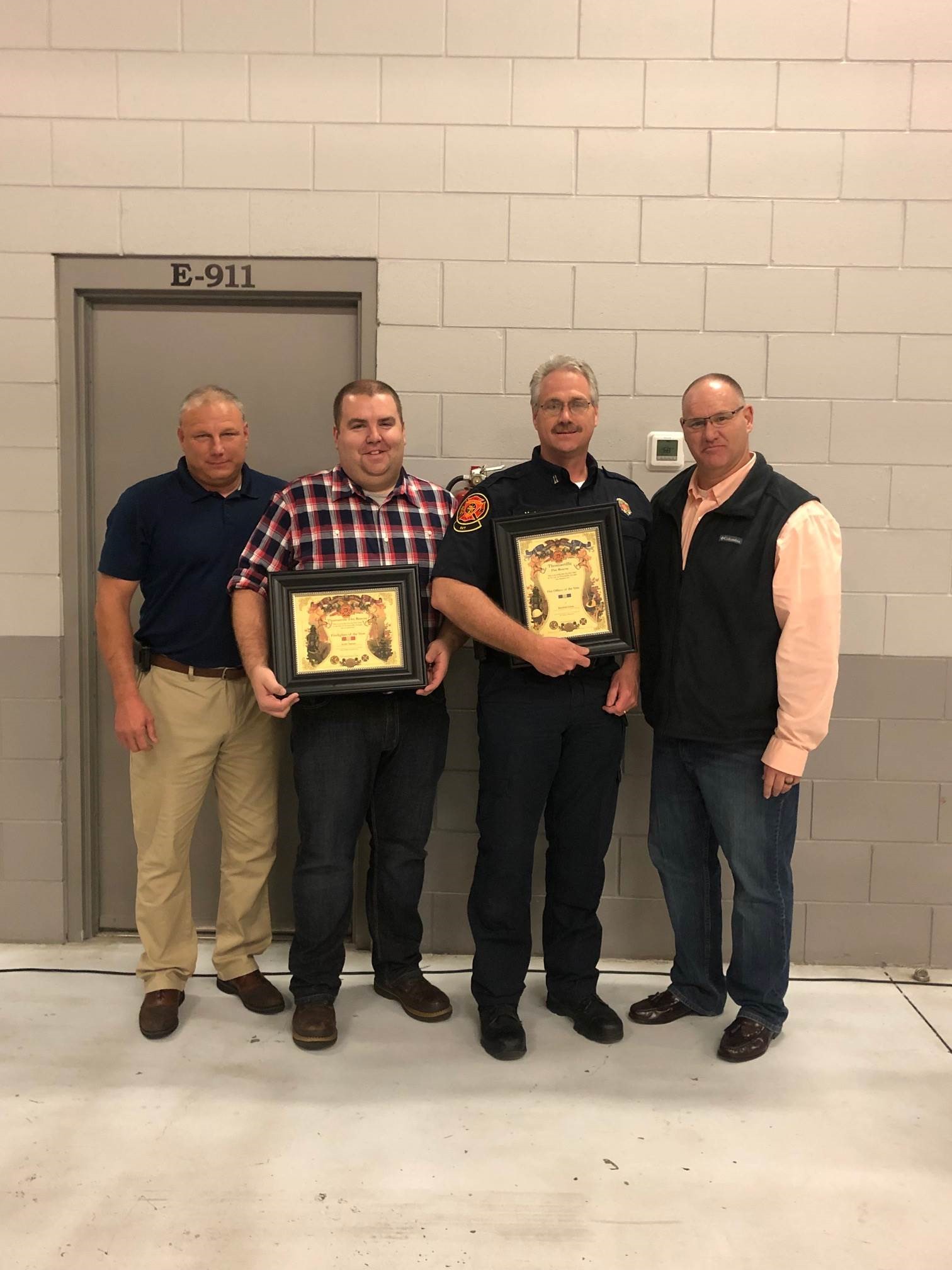 Thomasville Fire Rescue recently held their annual Firefighters' Appreciation Banquet and, as part of the evening's festivities, presented several awards for distinguished service.
Earning the Life Saving Medal were Firefighter Daniel Oliva, Engineers Michael Nixon and Bennie Palmer; Engineer Specialist Randy Wood; Lieutenants Jon Conner, John Harper and Corey Thompson; Captain Mark Nelms; Battalion Chief Scott Suber Scott and Deputy Chief Mark Sealy. "The Life Saving Medal is significant because it represents an instance where a life was saved because TFR staff were ready and able to respond to a medical emergency," said Tim Connell, Interim Thomasville Fire Rescue Chief. "This is exactly what we train for and hope to achieve when responding to every call, so it is especially gratifying to see so many of our staff earn these medals."
The Neptune Award, which is awarded to the shift with the best time in the department's timed skills and practicals, was awarded to C Shift. C Shift members include Battalion Chief Suber, Captain Mark West and Captain Marshall Green; Lieutenants Glenn Cain and Jon Conner; Engineers Ernest Moore, Keifer Barnes, Richard Britt and Christopher Plymale; and Firefighters Nate Thomas, Jake Johnston, Joseph Little and Parker Owens.
The award for Firefighter of the Year was given to Fire Rescue Engineer Barnes. "Engineer Barnes is dedicated to his position and has the respect of his colleagues," said Connell. "The Firefighter of the Year Award is voted on by members of our department, so being honored with this award shows that your teammates also recognize and value your work ethic. I'm very proud of him and the work he does for our community." For Barnes it was an honor to be recognized as the TFR's Firefighter of the Year, "I'm grateful and very honored to be named Firefighter of the Year by my peers." said Barnes. " I could not have achieved this without my team challenging me to give 110% every day. Above all, it is the endless support of my family that allows me to give my all for the team and the community."
Fire Rescue Captain Green was recognized with the Fire Officer of the Year award. "Captain Green is a true example of a leader in the fire service. He cares deeply for his team, our department and our community and is dedicated to making sure we are the best that we can be," said Connell. "It is a true honor to be the recipient of this award." said Green. For Captain Green, peer recognition made this award a tremendous honor. He said, "Knowing that it came from the guys in the department makes it special and worthwhile."
Pictured above: Deputy Chief Mark Sealy (left), Fire Rescue Engineer Keifer Barnes (center left), Fire Rescue Captain Marshall Green, Interim Fire Rescue Chief Tim Connell