The Thomasville Police Department (TPD) recently held a ceremony that honored the promotions of six officers. During the event, Kim Dyke was promoted to Captain, Brandon Kent was promoted to Sergeant, and Jamil Gatlin, Casey King, John Meredith, and Shaquille Thomas were promoted to Corporal. The ceremony was attended by members of the Thomasville City Council, family, friends, colleagues, and City of Thomasville leadership.
"Today's ceremony highlights the bright future of the leadership within the Thomasville Police Department," said TPD Chief John Letteney. "These six individuals have taken distinct journies to reach this professional achievement, however, they all share one major attribute, an indispensable commitment to lead their brothers and sisters of the force." Letteney said that combined, the officers have served the community and TPD for over 50 years. "This group of officers earned their promotions by displaying consistent professionalism and commitment to our community throughout their years of service."
Dyke began her career TPD in 2007 as a Patrol Officer and has served as a Field Training Officer, Accreditation Manager, Sergeant, and most recently as Lieutenant in the Patrol Division. "With this well-deserved promotion, Captain Dyke becomes the highest-ranking female in the proud history of our department," said Letteney. "She is a true testament to the diversity that we strive for and an example of organizational leadership that young ladies in our community can strive for." Dyke completed her Bachelor's Degree in Criminology from Florida State University in 2006 and will complete her Master's Degree from Columbus State University in May.
Kent has been a member of TPD since 2009. He began his career as a Patrol Officer and has served in several specialty units including Field Training Officer, Honor Guard, SWAT Team, and most recently on our K-9 team as a handler for K-9 Koda. "Sergeant Kent has served the community in various capacities during his time with us, exhibiting his leadership ability every step of the way," said Letteney. "His work has been impeccable and has played a major role in mentoring the officers in our K-9 team." The father of two daughters has a Bachelor's Degree in Criminal Justice from Walden University.
Thomas served our country as a member of the United States Marine Corps for eight years before joining TPD in 2015. "Corporal Thomas was raised in Thomasville and was destined to join our team, having participated in our department's Explorer Program while in high school," said Letteney. "After honorably serving our country, he has continued his service to the community as a Patrol Officer, Honor Guard, member of the Bike Team, and in his current role as a School Resource Officer at Thomasville High School. His service and leadership are on daily display while helping to guide the future leaders of our community." The husband and father of three holds a Bachelor's Degree from Bryant and Stratton College.
According to Letteney, Gatlin, King, and Meredith all joined TPD in 2017. "This trio of promotees have each served the community for only five years but have made immediate impacts since joining the team," said Letteney. "Corporal Gatlin is our 2019 Employee of the Year and a proud graduate of Thomasville High School and holds a Bachelor's Degree in Criminology from Saint Leo University," said Letteney. "After originally joining Team Thomasville in 2015 as a CDL Equipment Operator in our Natural Gas department, Corporal King transferred to TPD in 2017 and has been a member of the Thomasville-Thomas County Joint SWAT Team, Dive Team, and has served as a Field Training Officer." Letteney says that Meredith is one of the many proud Veterans employed in the Thomasville Police Department. "Corporal Meredith served our country for fourteen years in the United States Army, during which he deployed to both Iraq and Afghanistan," said Letteney. Meredith and his wife have been married for twelve years and are the proud parents of five children. He completed his Bachelor's Degree in Criminal Justice and Master's Degree in Homeland Security while serving in the Army.
"These six officers understand the mission of the City of Thomasville and TPD and understand the leadership and responsibility that is expected of a member of the team," said Letteney. "I am proud of their accomplishments and I'm looking forward to seeing their leadership abilities continue to be challenged and enhanced in a manner that benefits the citizens of Thomasville."
For more information about the Thomasville Police Department, visit Thomasville.org or TPD's Facebook page at Facebook.com/ThomasvillePoliceDepartment.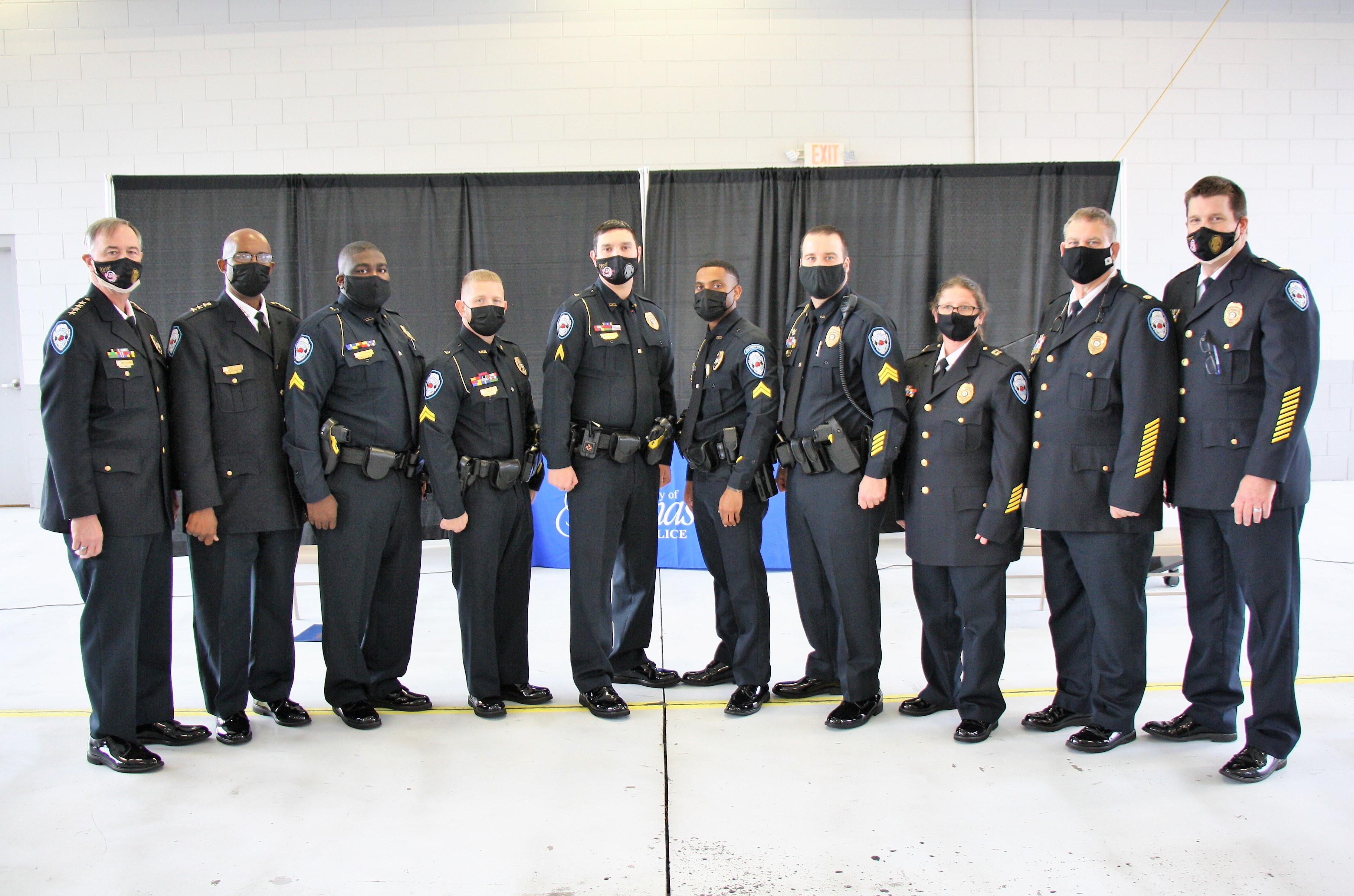 Pictured above: TPD Promotees and Command Staff