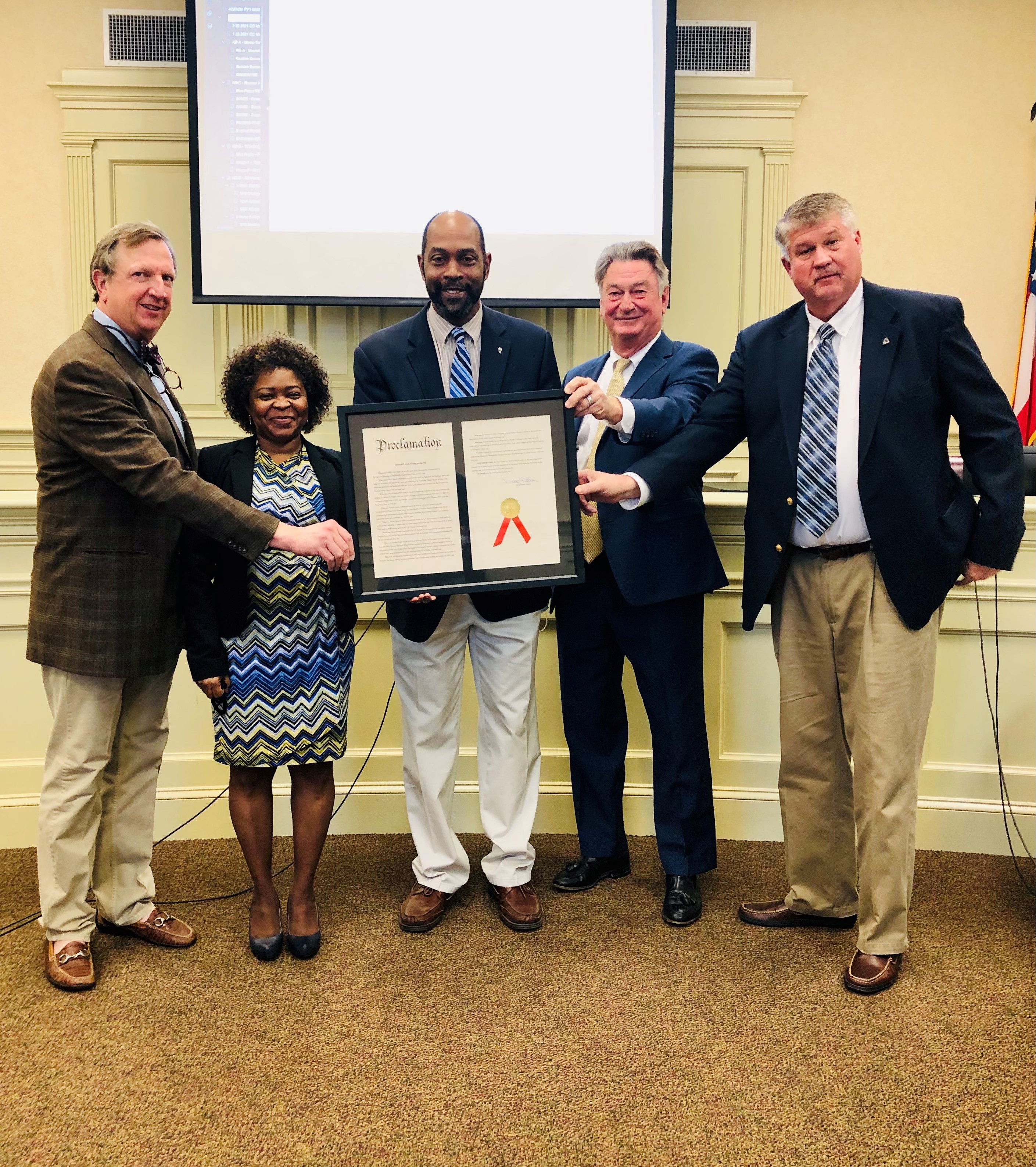 On Monday evening during regular session, the Thomasville City Council presented a proclamation signed by Mayor Greg Hobbs to Thomasville High School Class of 1971 Alumnus retired General Lloyd James Austin III. This honor was presented in recognition of his historic confirmation as the first African-American Secretary of Defense on January 22, 2021, and in appreciation for his steadfast and loyal service to our country and the Thomasville community.
"General Austin's dynamic leadership and accomplishments have been and continue to be a source of pride for the citizens of Thomasville," said Mayor Greg Hobbs. "The Council takes immense pleasure in presenting General Austin with this proclamation and recognizing him as our very own local hero."
General Austin's career of leadership began during his time at THS which he attended prior to the mandatory integration of schools. He was selected as a captain of the Bulldogs basketball team and would earn the nickname "Blade" due to his thin wiry frame that dominated the basketball court. His accomplishments as a basketball star at THS would eventually earn him an induction into the Thomasville/Thomas County Sports Hall of Fame.
Following in the groundbreaking footsteps of his distant Thomasville relative, Lt. Henry O. Flipper, Austin became the second African-American from Thomasville to graduate from West Point in 1975. It was there that he mastered the character and values that would guide him through a distinguished 41-year career with the U.S. Army. "General Austin has served our country in many positions including as commander of the United States Forces-Iraq, the 33rd Vice Chief of the Army, and the commanding general for the U.S. Central Command," said Mayor Pro Tem David Hufstetler. "His career and character have been praised by many U.S. leaders, including former President Barrack Obama who described his career as one whose 'character and competence exemplify what America demands of its military leaders.' Those words certainly reflect the pride our community has in General Austin."
General Austin, who retired from military service in 2016, required special approval by the House and Senate on a waiver allowing him to serve in the Secretary of Defense post due to a law mandating a seven-year gap between military service and the top civilian defense job. "The waiver by the House and Senate along with his 93-2 confirmation vote by the Senate speaks volumes about his career of service to our country," said Hobbs. "His reputation as a 'soldier's soldier' exemplifies the values of hard work, determination, and humility instilled in him by his beloved parents while growing up in Thomasville. We humbly honor this great patriot on behalf of our entire city."