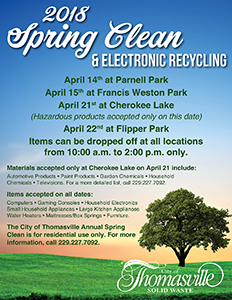 Just in time for spring cleaning, City of Thomasville Utilities' Solid Waste Department announces Spring Clean 2018, the perfect opportunity to safely dispose of paint, electronics, appliances, furniture and more. The event will be held April 14-22.
"Disposing of the items that are accepted during the Spring Clean event can sometimes be difficult, so this is a great opportunity for our customers to clean out some of their unwanted and unusable items and conveniently and safely discard them," said Solid Waste Assistant Superintendent Jimmy Smith, Jr..
Smith said that the Spring Clean event will begin at 10:00 a.m. and end at 2:00 p.m. each day during this year's event. The schedule is as follows:
April 14th – Parnell Park, 10:00 a.m. – 2:00 p.m.
April 15th – Francis Weston Park, 10:00 a.m. – 2:00 p.m.
April 21st – Cherokee Lake Park, 10:00 a.m. – 2:00 p.m.
April 22nd – Flipper Park, 10:00 a.m. – 2:00 p.m.
All sites will accept items including computers, gaming consoles, household electronics, small household appliances, large kitchen appliances, water heaters, mattresses, box springs and furniture. Hazardous products such as automotive products, paint products, garden chemicals, household chemicals and televisions will only be accepted on April 21st at Cherokee Lake Park.
"This event is for items that can be more cumbersome to dispose of," said Smith. "The Spring Clean is a perfect time to dispose of these products that may be taking up space in your garage, shed, or workshop."
Tires, oil-based materials, liquid products and construction materials are not accepted at Spring Clean events. For a list of acceptable items or for more information, call the Solid Waste Department at 227-7092.