The City of Thomasville's 2021 First Friday Sip and Shop series continues on Friday, June 4th with an event-filled evening in beautiful downtown Thomasville. Attendees sipping and shopping through the downtown event area will be treated to the Show & Shine Car & Truck Show, street entertainment, The FIRM Dance Company performance, food trucks, and a concert by Nashville country artist John King at The Ritz Amphitheater to cap off the evening.
"Our June First Friday Sip and Shop will be a great, family-friendly evening filled with something for everyone," said Madison Eaton, Special Events Coordinator. "Our May event welcomed back live entertainment for 2021 and this month we continue the live music features with street bands on Broad and Jackson Streets in addition to our live concert at The Ritz Amphitheater."
Eaton said the Thomasville Police Department's Show & Shine Car & Truck Show, which was canceled during the Rose Festival, will also be a part of the First Friday festivities. "We have also partnered with the Thomasville Police Department to host the Show & Shine Car & Truck Show from 5 p.m. to 8 p.m. Many were disappointed that this event could not move forward due to inclement weather during the Rose Festival, so we are happy to bring the fun to our First Friday Sip and Shop series," she said.
"The event will be located on Broad Street between Remington Avenue and Jefferson Street," said Eaton. "Partnering with TPD to host this event during First Friday will create a unique opportunity for car enthusiasts to enjoy the exhibition of vintage automobiles, antique trucks, and muscle cars while sipping and shopping. These amazing vehicles displayed on our historic downtown streets truly create a picturesque sight to be seen."
To bring even more entertainment to the celebration, Eaton said a local favorite will kick off the festivities at the stage with a special performance. "We are also pleased to welcome The FIRM Dance Company to our event, where they will perform a portion of their Lion King production before the main concert at The Ritz Amphitheater," she said.
While enjoying all of the great performances, Eaton encourages attendees to shop and dine in Thomasville's award-winning downtown. "This will be the perfect time to pop into our downtown stores to pick up a gift for yourself or the father in your life," she said. "You'll also want to be sure to grab some food from your local favorites or from one of the food truck options that will begin serving on Stevens Street at 6:00 p.m. Whichever option you choose, it is sure to be a great evening."
The evening will conclude with a free concert at The Ritz Amphitheater from 8:00-10:00 p.m., featuring John King. "John King was originally scheduled to perform for us as a part of the 2020 First Friday lineup," said Eaton. "In August of 2020, we hosted a virtual concert featuring King which received a large viewership on the City of Thomasville's Downtown Thomasville Facebook page. Now his sounds will thrill the live crowd at The Ritz Amphitheater."
A native of Georgia, John King is no stranger to country music. He has numerous top hits on the radio such as "Easy" and "Try Saying Goodbye." Not only is he a singer and instrumentalist, as a songwriter he has paired with country star Randy Houser, as well as Hootie and the Blowfish and other artists to bring music from pen and paper to guitar and microphone.
Eaton says that all City sponsored events will continue to follow the CDC guidelines for public health during outdoor gatherings. "Guests are encouraged to continue to practice safe social distancing and good hand hygiene while enjoying their visit to downtown," said Eaton. "Handwashing stations are strategically located throughout the downtown area, and all public restrooms and outdoor seating areas are also regularly sanitized."
"Extended shopping and dining hours, a car and truck show, food trucks, dance performances, street bands, and a headlining concert, are a great way for guests to continue supporting our small local businesses," said Eaton. "We invite everyone to come out, grab your favorite beer or wine from a participating downtown merchant, and enjoy all that downtown has to offer."
For more information about the First Friday Sip and Shop events, visit downtownthomasville.com or call the Thomasville Visitors Center at 229-228-7977.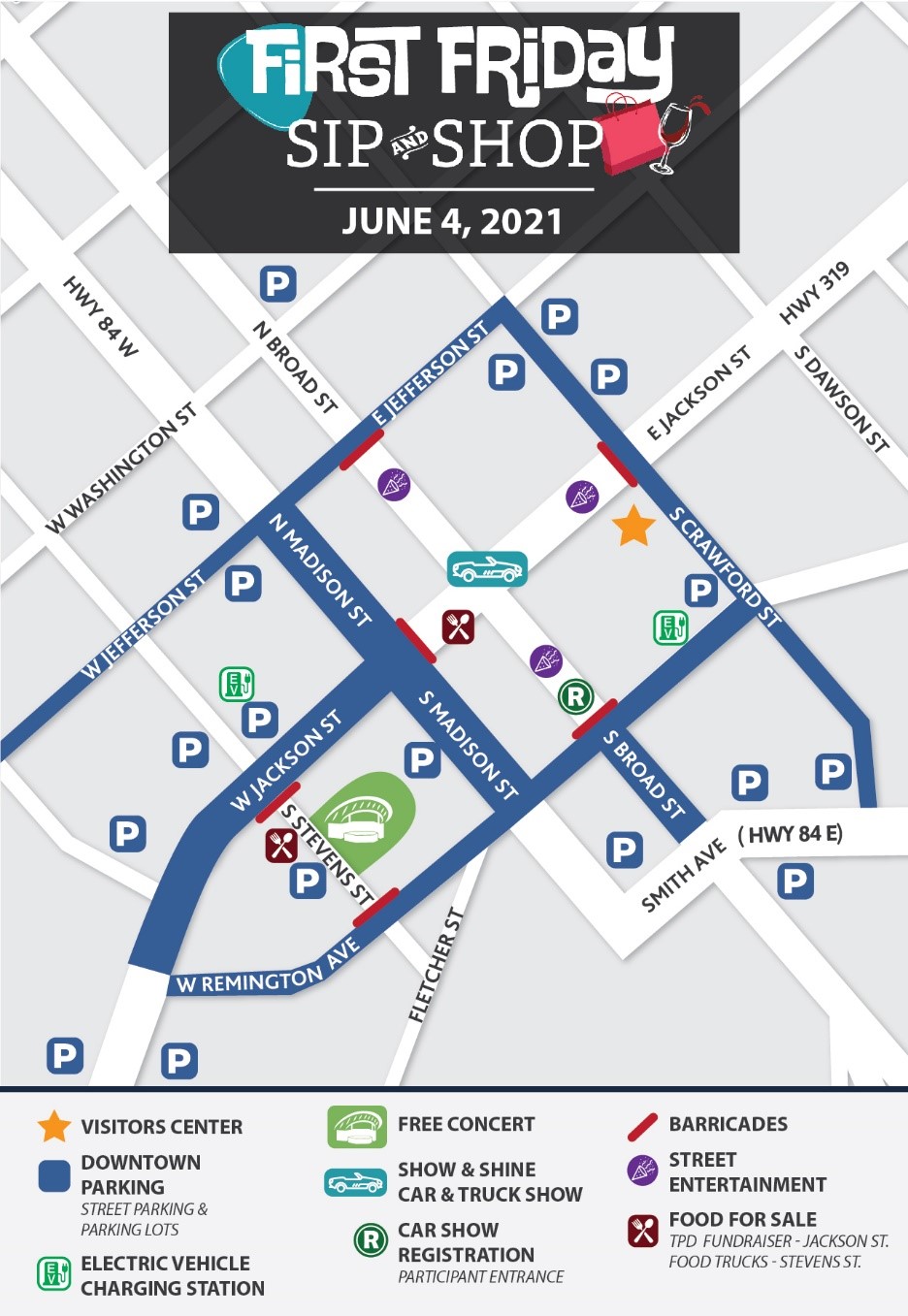 Pictured Above: June 4th First Friday Sip and Shop Event Map