Thomasville Fire Rescue (TFR) is now officially on Facebook. Launched on Monday, July 12th, @OfficialThomasvilleFireRescue will serve as an additional communication tool to provide the Thomasville community with valuable safety information, tips for ways to make homes safer, education about fire best practices, and much more.
"TFR is excited about this opportunity to provide an abundance of valuable information to our community," said TFR Chief Tim Connell. "Most of all, we look forward to connecting with Thomasville residents and sharing a behind-the-scenes look at TFR. We view the new Facebook page as a communication tool that will help familiarize Thomasville residents with the important work TFR does to keep our community safe, as well as a way to interact with our team outside of emergency situations."
Chief Connell said that the positive community response to the page has been immediate and humbling. "Our page surpassed 500 likes and followers within 48 hours of the official launch," said Chief Connell. "We encourage the community to keep spreading the word about this page. The wide array of public safety information shared there will be invaluable to families, households, and businesses." Visitors to the TFR Facebook page are encouraged to like, follow, and share posts with family and friends. "Our long-term goal is to surpass 18,000 followers in order to maximize the dissemination of public safety information," said Chief Connell.
Residents searching Facebook for the TFR page should search for the page's full name: @OfficialThomasvilleFireRescue. Facebook currently hosts similar pages that are not sanctioned by TFR. "We are working with the social media platform to have these pages removed or designated as unofficial pages," said Chief Connell. "By following the official page, you can rest assured that you are receiving accurate and up-to-date information from the City of Thomasville's Fire Rescue team."
For more information about Thomasville Fire Rescue, please visit Thomasville.org, visit the TFR Facebook page @OfficialThomasvilleFireRescue, or call Thomasville Fire Rescue at 229-227-4099.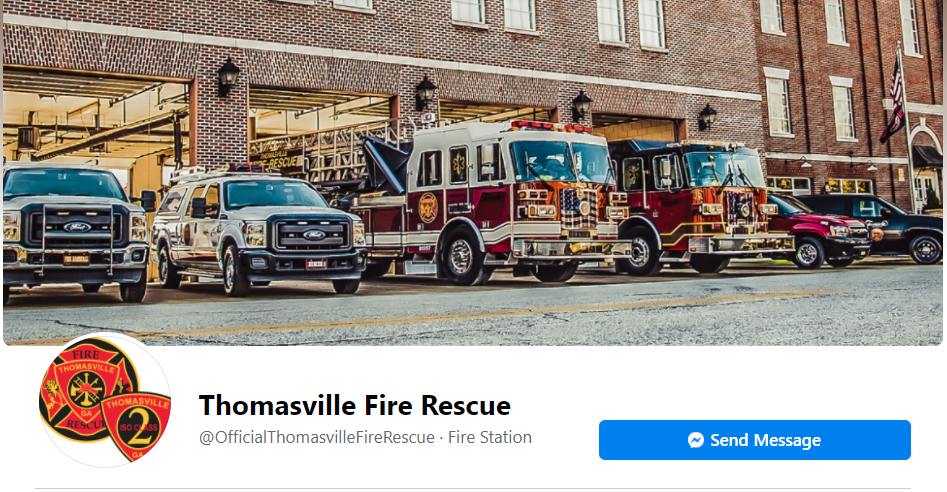 Pictured above: Official Thomasville Fire Rescue Facebook Page