Thomasville Fire Rescue (TFR) recently held a pinning ceremony that honored promotions and welcomed their newest recruits. During the event, Mike Mann was promoted to Captain, Branden Smith was promoted to Lieutenant, and Tyler Bannister, Joseph Lombardi, and Mark Wooten were sworn in as TFR's newest firefighters. The ceremony was attended by members of the Thomasville City Council, state and county representatives, family, friends, colleagues, and City of Thomasville leadership.
"It is a special honor to be a part of this pinning ceremony that welcomes the newest members of the TFR family and honors the promotions of two bright leaders of our teams," said TFR Chief Tim Connell. "Days like today are part of a lifetime of memories that serving in public safety creates for our firefighters and their families, as together they travel the journey of serving our community."
Captain Mann has been a member of TFR since 2008. Prior to his promotion, Mann served as a firefighter, engineer, and lieutenant. "Captain Mann has served TFR with pride, commitment, and ethics since the day he arrived," said Connell. Lieutenant Smith joined TFR as a trainee in 2015, serving as a firefighter, firefighter IV, and engineer before his promotion. "Lieutenant Smith has ascended the ranks during his six years on the team. He has worked relentlessly during this time with the singular objective of serving our community."
According to Connell, the new graduates completed a rigorous eight-week course held locally at Thomasville Fire Rescue stations and facilities. "Under the leadership and instruction of our Battalion Chief and Chief of Training Corey Thompson, these young men spent countless hours in the burn building learning the stages of fire, nozzle techniques, search and rescue skills, hazardous materials studies, and wildland firefighting techniques," said Connell. "Upon completion of the course that pushes them physically and mentally to the limit, they are required to complete written and practical skills examinations that further analyze their educational intake. From here, the trio moves into their next stages of training."
"It is my distinct honor to celebrate the newest members of the TFR family while honoring the promotions of two of our officers," said Connell. "I am proud of the accomplishments of these men and I am looking forward to seeing the continued development of their leadership abilities as they serve our community and uphold our constitution. Our command staff has complete confidence that they will make our community proud each day."
For more information about Thomasville Fire Rescue, visit Thomasville.org or TFR's Facebook page at Facebook.com/OfficialThomasvilleFireRescue.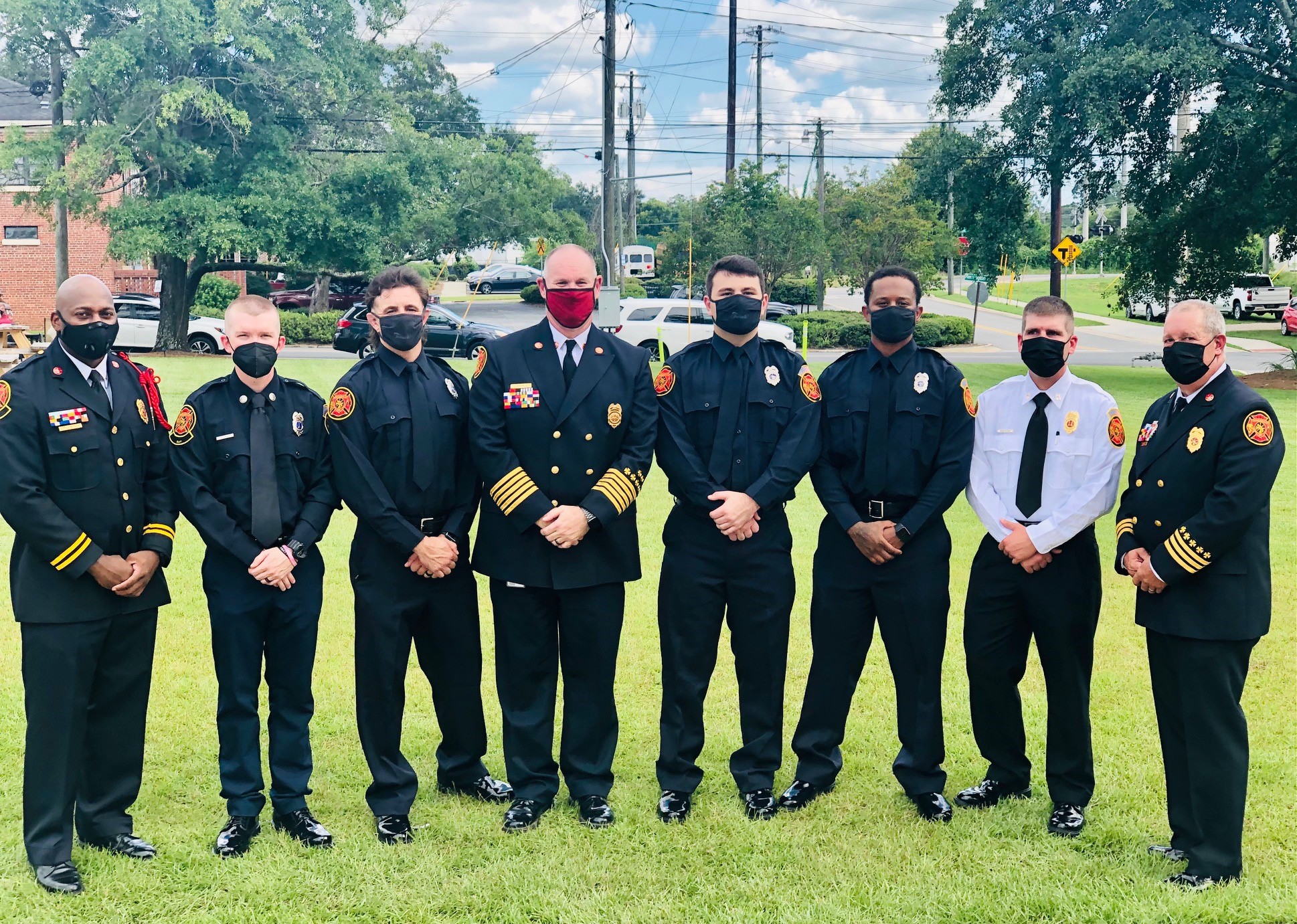 Pictured above: TFR Commad Staff along with promotees and newest firefighters