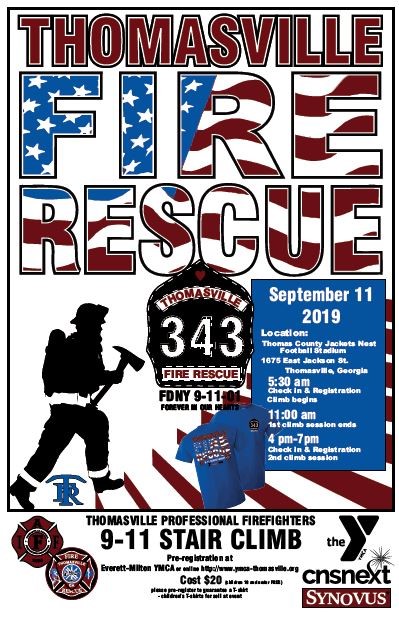 On September 11, 2001, over 3,000 people lost their lives during terrorist attacks involving aircrafts aimed at the World Trade Center in New York City, the Pentagon in Washington D.C., and a thwarted attempt that crashed in Stonycreek Township, Pennsylvania. Of those 3,000 lives lost, 343 were firefighters, 63 were police officers and eight were emergency medical technicians.
Each year on September 11th, our community remembers those fallen heroes who made the ultimate sacrifice with a memorial stair climb in their honor. "The 9/11 Memorial Stair Climb encourages participants to climb or walk the equivalent of the 110 stories that made up the World Trade Centers," said Marshall Green, Fire Rescue Captain with the City of Thomasville. "The stair climb is representative of the rescue mission many firefighters and first responders made, but never returned from."
"We dedicate ourselves to never forgetting those courageous men and women who ran headlong into danger and sacrificed their lives in an attempt to rescue those trapped inside the Towers before they tragically collapsed," Green said. "We hope that the community will join us in honoring these brave first responders."
The 2019 9/11 Memorial Stair Climb sponsors include Thomasville Fire Rescue, Thomasville Professional Firefighters Association Local 2084, CNSNext, the Thomasville YMCA, Ponder's, Synovus Bank, Thomasville Toyota, Thomasville Ford, Bobby Dollar Appliance Consultants, Key South Realty, Thomasville Physical Therapy, and Allgood Screen Printing. "With the help of our area sponsors, we are able to bring the community together in remembrance of those who lost their lives in selfless acts of bravery," said Greene.
The 9/11 Memorial Stair Climb will be held on Wednesday, September 11th at the Thomas County Jackets Nest Football Stadium. There will be two sessions, a morning session beginning at 5:30 am and an afternoon session beginning at 4:00 pm. There will also be a run, beginning at 7:00 am, from Station 1 on Crawford Street to the Jackets Next Stadium. The flag will be transported from the station to the stadium, and community members are encouraged to join in. All events are open to first responders throughout the local area and region, as well as citizens wishing to participate.
Pre-registration is available now at the Everett-Milton YMCA or online at ymca-thomasville.org. The cost is $20 and children 10 and under are free. All proceeds from the event will go towards funding the completion of the 9/11 Memorial located in front of Thomasville Fire Rescue Station 1.