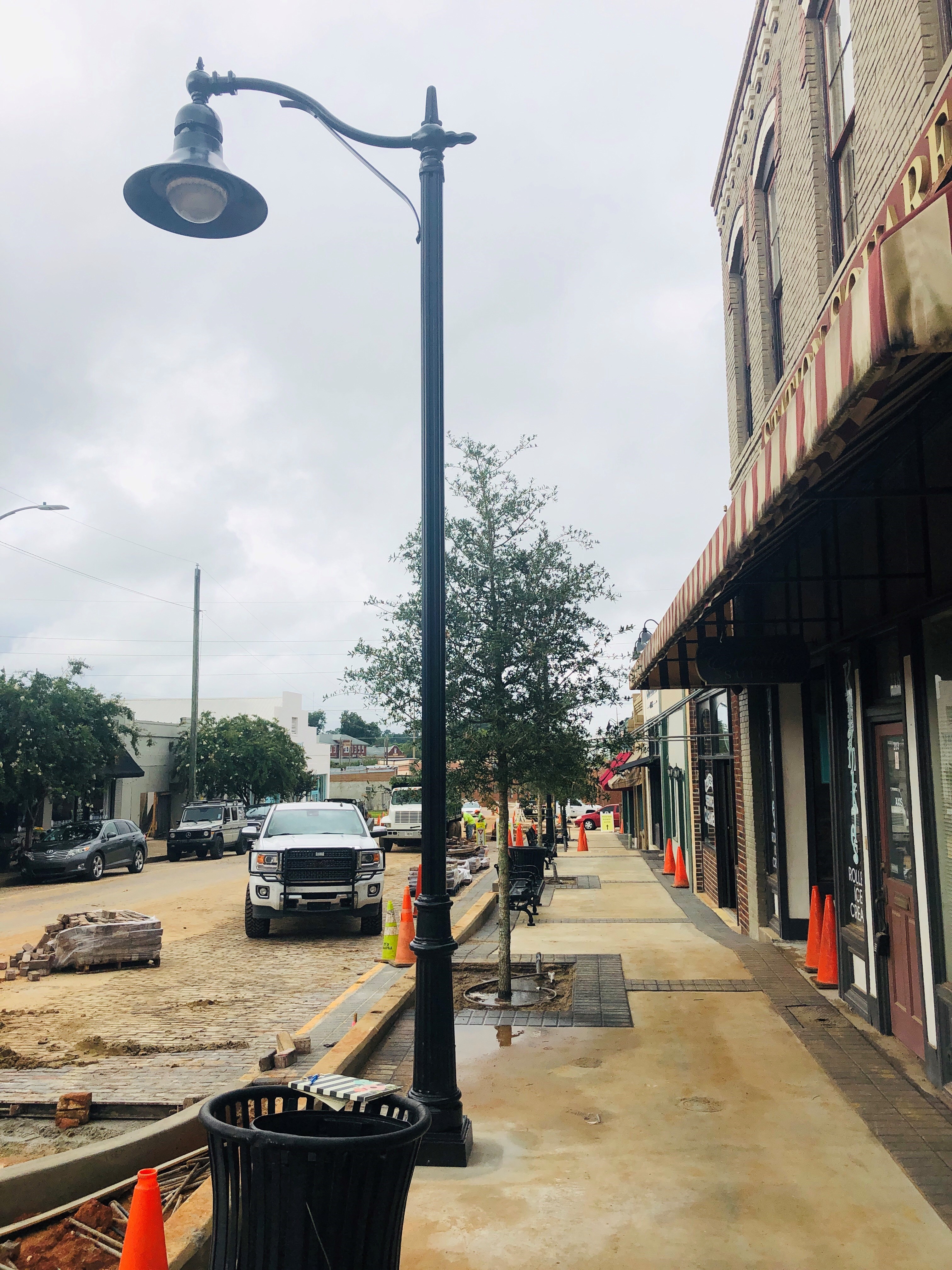 The West Jackson Streetscape Project is now in its third month of construction, and project leaders say that everything is moving forward as scheduled. Construction began in late April and remains on target for a November completion.
"The construction of the West Jackson Street area is moving forward, and we are pleased with the progress of the project," said Wayne Newsome, City of Thomasville Engineer. "Crews are working to keep the project moving forward while trying to minimize the impact on the West Jackson Street businesses and the citizens who live and work in the area."
The sidewalks on the north side of the 200 and 300 blocks of West Jackson Street are nearly complete. The retaining wall for the north side of the 200 block has also been completed, and the decorative railing will be installed later this week. "The new high-rise live oak trees and decorative lighting have been installed on the north side of the street, and the historic granite curbing has been re-installed," said Newsome. Work is currently underway to re-install the historic brick to the street on the north side of the 200 block. "The re-installation of the historic bricks is tedious and time consuming work. The method of installation hasn't really changed since they were originally installed in 1907," Newsome added.
Work on the north side of the 200 block of West Jackson Street will be finished soon. Construction on the south side of the 200 block will begin on Monday, July 29th. Inbound (northbound) traffic will be detoured around Remington Avenue, and the outbound (southbound) lane will open to vehicular traffic. North Stevens Street will also re-open at this time.
Businesses on West Jackson Street will remain open during the streetscape construction. "We are working with the construction team to maintain front door access to the businesses so customers can continue to enjoy shopping and dining at their favorite local shops and restaurants while construction takes place," said Sherri Nix, Public Outreach Manager. "We also want to encourage shoppers to take advantage of our 'Shop To It West Jack' summer shopping promotion that offers two ways to win $20 Downtown Dollars each week through August by shopping in The Bottom District of West Jackson Street." For details about the promotion, visit Downtownthomasville.com. For more information on the West Jackson Streetscape Project, call Sherri Nix at 229-227-4154 or visit Thomasville.org.