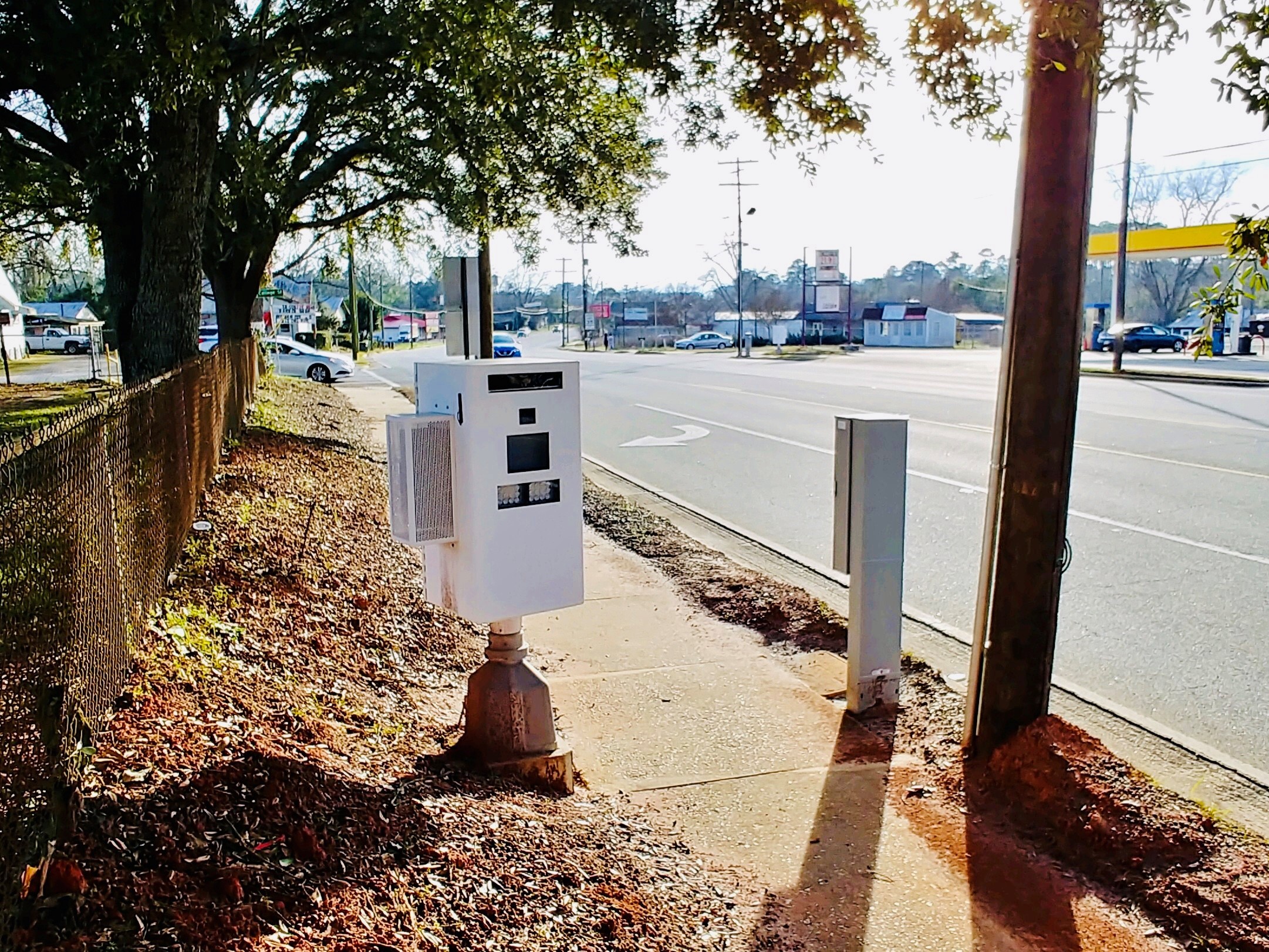 The school zone on West Jackson Street near Harper Elementary School began automated speed enforcement on Thursday, February, 4th. This enforcement zone is part of the partnership between the City of Thomasville Police Department and RedSpeed USA. The partnership, which began in October of 2020, involved the implementation of a program for automated speed enforcement in school zones. RedSpeed USA, an Illinois based provider of automated photo enforcement devices, has partnered with over 40 law enforcement jurisdictions in the state of Georgia to date.
"The automated speed zones that were implemented in October are located along South Broad Street, East Jackson Street, and East Clay Street. These zones have proven to be highly successful in deterring motorists from speeding in those areas," said Thomasville Police Chief John Letteney. "We are confident that the newly automated speed zone along West Jackson Street will further assist us in our constant quest to protect our children and citizens in school zones."
According to TPD Public Information Officer Corporal Crystal Parker, there will be a 30-day warning period on West Jackson Street to help drivers adjust to automated enforcement within the zone. "During the warning period, RedSpeed will mail warning notices to drivers," said Parker. "New signage alerting drivers of the enhanced automated enforcement have already been installed in the school zone."
As is the case with the previously installed school zone cameras along East Jackson Street, East Clay Street, and South Broad Street, the camera will operate on school days from 7:00 a.m. - 4:00 p.m., one hour before and after school as covered by OCGA 40-14-18. Parker said, "When the warning period expires, a sworn officer will review and approve each violation before a citation is issued and mailed by RedSpeed to the address associated with the vehicle. Fines begin at $75.00, go up to $125.00 for repeat offenders, and do not go on a driver's history. All violations can be contested in Municipal Court."
Parker says that automated speed zones impact the community as a whole. "The devices are not replacing or taking away jobs from our officers," said Parker. "Our officers are now able to patrol and monitor speed in other areas of the community during these times. They also allow officers to be available to answer other calls for service without leaving the school zones unmanaged."
"Our number one goal is compliance," said Parker. "We want drivers to be more alert while operating vehicles and obey the posted speed limits, especially when the lights are flashing to indicate that the school zone speed limit is 25 miles per hour. The cameras are set to recognize the applicable speed limit differences and will operate accordingly while allowing drivers a 10 mile per hour variance before classifying them as speeding."
In 2018, Georgia House Bill 978 was passed allowing for automated enforcement in school zones. "HB 978 was introduced after a nationwide spike in pedestrian fatalities over the past decade," said Parker. "During that time, Georgia became one of the five deadliest states for pedestrians. Nationwide, traffic fatalities are also a major problem and stand as the number one cause of death for children ages 5-14 and young adults ages 15-29."
"Fines are paid directly to RedSpeed with the majority of the revenue redirected to the City of Thomasville for public safety use only," said Letteney. "The portion that stays with RedSpeed covers the costs associated with the installation and maintenance of the equipment along with the system usage training that was provided to our officers."
"Even minimal reductions in speed make the roads safer for children and citizens," said Letteney. "The number one goal of our department is to constantly find ways to better serve and protect our community, and programs such as these help us reach that goal."
The automated speed zone along West Jackson Street will be fully operational on Monday, March 8th. On this date, citations will be issued in lieu of warnings. For more information about automated speed enforcement in school zones and a list of frequently asked questions, visit Thomasville.org. TPD will also be providing updates and answering questions on its Facebook page at facebook.com/ThomasvillePoliceDepartment.