Memorial Day is observed in commemoration of all military personnel who have died in the performance of their military duties for the United States Armed Forces. The Federal holiday, formerly known as Decoration Day, was established in the aftermath of the Civil War but did not become an official national holiday until 1971. During the holiday weekend, many people will visit the City of Thomasville's five cemeteries to honor and mourn those who died while serving our great country.
"The City's five cemeteries are the final resting place for many Americans that served our country throughout the years," said Denise Reichert, Cemetery Administrator. "Our historic cemeteries, Flipper Cemetery and the Old Cemetery, date back to the early settlers of Thomasville. They are the final resting place for many that helped shape the history of our community and country, including Lieutenant Henry Ossian Flipper who was the first African American graduate of West Point. He was laid to rest in 1940 at the old Magnolia Cemetery, the present-day Flipper Cemetery."
Reichert says that Memorial Day weekend and other recognitions of our armed forces result in increased visits to the cemeteries from various guests. "During occasions when military personnel are remembered, recognized, or honored our cemeteries will receive visits from family members and organizations wishing to salute those laid to rest in these sacred grounds," said Reichert. "We have various community organizations and volunteers that honor our deceased veterans with flags, wreaths, flowers, or other forms of worthy tributes."
According to Bonnie Hayes, Tourism Manager, the historic cemeteries attract many history-seeking tourists from all over the United States. "It is very common to meet visitors from various regions of our country visiting our city to take in all the history we have to offer," said Hayes. "Our historic cemeteries are often a point of interest for visitors. They are fascinated with the burial sites of some of Thomas County's oldest families. These cemeteries offer a tranquil look at the history behind some of the residents who gave our city character and definition."
Throughout the years, improvements made to the historic cemeteries has led to a further increase in tourism. "Improvements made to our historic cemeteries have led to an increase in heritage tourism which is reflective of the ever-growing interest in historic cemeteries," said Hayes. "The identification and marking of nearly 900 previously unmarked graves along with repairs of fallen walls and sunken gravesites in the Flipper Cemetery and Old Cemetery has made a huge difference. The fencing installed at Flipper Cemetery in 2015 provided an aesthetic improvement worthy of such a historical treasure."
The City's work to preserve history at both Flipper Cemetery and the Old Cemetery continues today with the usage of the City's Geographic Information System (GIS) division. "Over the past six months, the GIS division has been mapping the location of unmarked graves as identified by ground-penetrating radar in Flipper Cemetery," said Duane Treadon, GIS Director. "To date, we have mapped 636 unmarked graves at Flipper and expect to complete work later this summer prior to beginning at the Old City Cemetery. By using GPS and GIS to map the location of the unmarked graves we are giving respect and recognition to those buried there. We may never learn their identity, but they, and their final resting place, will not be forgotten or lost to time again."
Throughout the years, the City has partnered with various organizations focused on historic cemetery preservation within Thomasville. "The pioneer of many of our efforts to preserve history at our cemeteries was our former Executive Director of Human Resources and Community Relations, Kha McDonald," said Reichert. "Kha created partnerships with local foundations and took advantage of grant funding for many cemetery projects to help defray the costs. We are hopeful that those partnerships and many others will assist us in preserving the history and beauty of all of our cemeteries."
The City maintains and operates approximately 144 acres of cemetery grounds throughout the three active and two historic cemeteries. "We maintain the grounds within all five cemeteries, including mowing, weed eating, and pruning as well as trash removal and fire ant control," said Reichert. "Utilizing burial records which date back to mid-1800s, staff members are also available, upon request, to assist with the location of existing grave spaces within the cemeteries."
"Our staff is passionate about the service we provide for our community," said Reichert. "Every single grave we maintain is the final resting place of a person that had a family and people that grieved for them. We consider it an honor and a privilege to maintain those sacred grounds."
For more information about the City's cemeteries, call 229-227-4195 or visit Thomasville.org.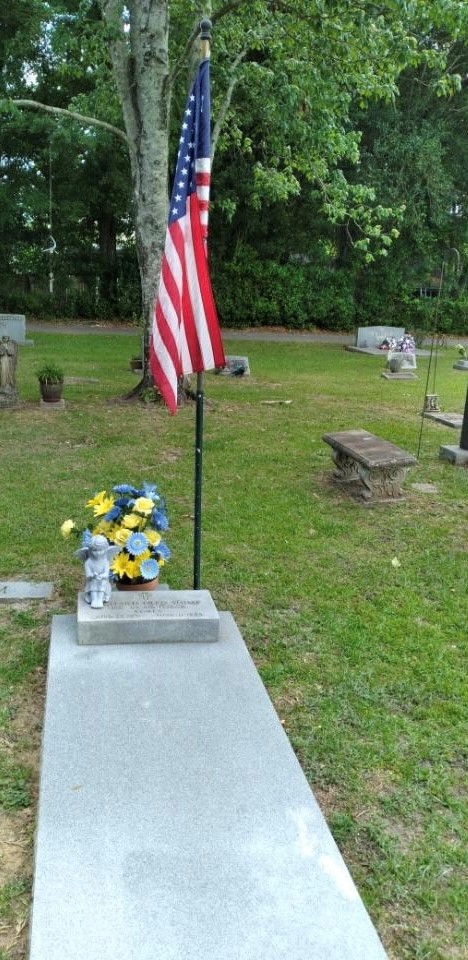 Pictured Above: Veterans' final resting places are often honored with flags , wreaths or flowers, especially around holidays that recognize our armed forces.