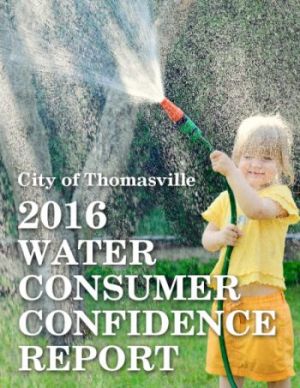 The City of Thomasville's Water Treatment Plant provides award-winning quality water to Thomasville. For the past five years, water treatment staff members have earned the Gold Award from the Georgia Association of Water Professionals (GAWP) for meeting 100 percent of the Federal Safe Drinking Water Requirements.
In order to ensure that tap water is safe to drink, the EPA prescribes regulations that limit the amount of certain contaminants in water provided by public water systems. Over the course of the year, the Water Treatment staff conducts thousands of tests at various points throughout the water distribution system.
"Clean water is not something to take for granted and is one more reason we should be thankful to call Thomasville home," said City of Thomasville Director of Operations Bill Gerber. "The Gold Award recognizes the commitment the City of Thomasville has demonstrated by consistently providing safe, clean, abundant water to the citizens of Thomasville and Thomas County," noted Gerber.
Of the approximately 2,600 water systems in Georgia, less than 10 percent were eligible to receive the Gold Award for 2016.
"This recognition is only possible due to the dedication of our water professionals who operate and maintain our water systems along with the support of our City Council and community," noted Gerber.
The designation from GAWP is just one of the accomplishments highlighted in the City of Thomasville's 2016 Water Consumer Confidence Report. A copy is available on the City's website at Thomasville.org/water-report.